Consumers and ATMs: New Opportunities for the Old Channel
Overview
Consumers and ATMs:
New Opportunities for the Old Channel
Sixth report from Mercator Advisory Group's 2011 CustomerMonitor Survey Series probes consumer attitudes and ATM usage
Boston, MA -- ATMs have been with us over four decades, and while their usage has grown, providing new functionality has proven challenging, Mercator Advisory Group's 2011 CustomerMonitor Survey Series finds.
Consumers and ATMs: New Opportunities for the Old Channel, the sixth in a series of eight consumer survey reports examining payment and banking topics, probes the changing face of the ATM and consumers' willingness to try new capabilities.
The report is based Mercator's CustomerMonitor Survey Series. The foundation of the series is data obtained during a national sample of 1,003 online consumer survey responses completed between October 9 and October 13, 2011. Among the topics covered by the survey are types of ATMs and ATM-based services used, use of the debit card cash-back feature at the point of sale in stores, and attitudes toward ATM fees.
Findings of the research include:
The reasons many consumers remain reluctant to make deposits in ATMs
The likelihood of those making ATM deposits to consider making other, new types of transactions
The consumer segment experiencing some of the highest ATM usage

Additional popular services for frequent ATM users
"ATMs can be equipped to provide a wide range of transactions and functions to consumers, yet some consumers are still challenged to make deposits," states Ken Paterson, VP for Research Operations at Mercator Advisory Group and the author of the report. "While technologically advanced consumers show interest in ATMs' extended capabilities, financial institutions will have to actively market these new capabilities and educate their customers before the full range of functionality can be appreciated."
One of 23 exhibits in this report: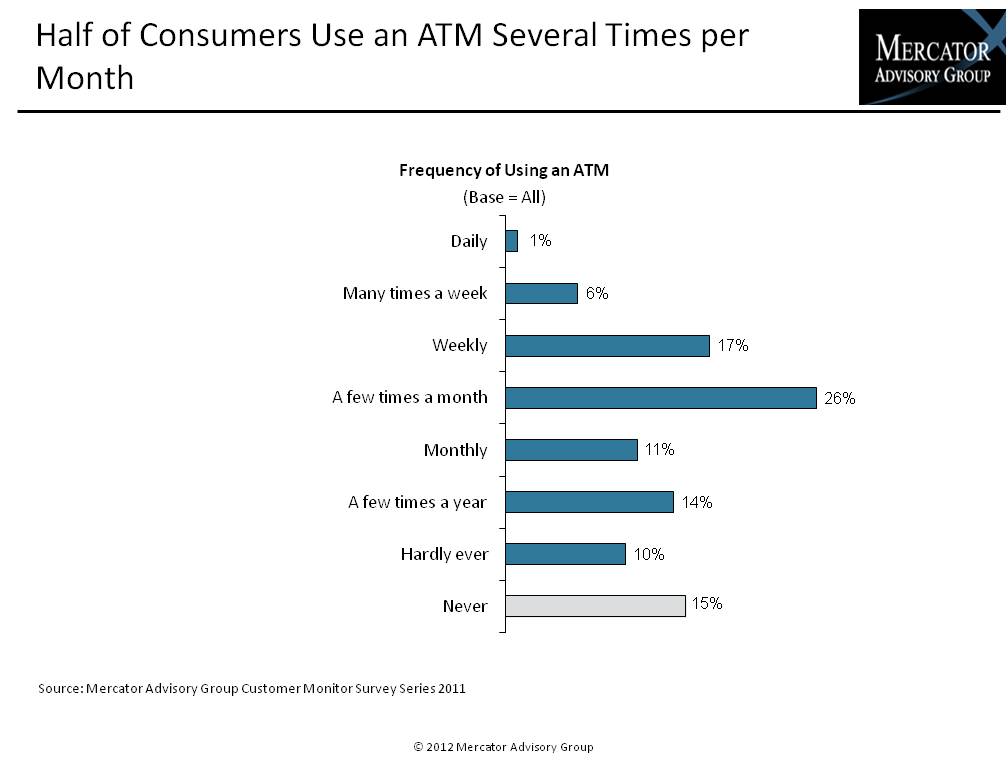 The report is 42 pages long and contains 23 exhibits.
Members of Mercator Advisory Group's CustomerMonitor Survey Series have access to this report as well as the upcoming research for the year ahead, presentations, analyst access and other membership benefits.
Please visit us online at www.mercatoradvisorygroup.com.
For more information and media inquiries, please call Mercator Advisory Group's main line: (781) 419-1700, send E-mail to info@mercatoradvisorygroup.com.
For free industry news, opinions, research, company information and more visit us at www.PaymentsJournal.com.
Follow us on Twitter @ http://twitter.com/MercatorAdvisor.
About Mercator Advisory Group
Mercator Advisory Group is the leading, independent research and advisory services firm exclusively focused on the payments and banking industries. We deliver pragmatic and timely research and advice designed to help our clients uncover the most lucrative opportunities to maximize revenue growth and contain costs. Our clients range from the world's largest payment issuers, acquirers, processors, merchants and associations to leading technology providers and investors. Mercator Advisory Group is also the publisher of the online payments and banking news and information portal PaymentsJournal.com.
---
Interested In This Report