Co-Branded Consumer Credit Cards 2010: Mature Products Ripe For Change
Overview
Co-Branded Consumer Credit Cards 2010:
Mature Products Ripe For Change
Boston, MA - This report provides an analysis of a very mature product: the U.S. co-branded card. Defined as a network-branded (American Express, Discover, MasterCard, or Visa) credit card issued by or for a commercial firm (other than a bank) under that firm's brand name, these products have become ubiquitous in the U.S. credit card marketplace. And their financial terms and commercial value-add have become mainstream, even formulaic in nature. This report summarizes trends in the leading offerings in today's market, with the objectives of providing a snapshot of the state of commercial co-brands and identifying potential strategic directions for these products.
Highlights of the report include the following:
Co-branded and private label credit card programs have been selectively sponsored by the top U.S. commercial brands. There is a limited supply of uncommitted leading brands with co-brand potential.

Leading co-brand programs show differentiated pricing and reward profiles among the retail, airline, hotel, gasoline, and other travel sub-segments.

Bonus on-us earn rates are an often-used tool for program differentiation.

Many programs have taken on a similar formulaic approach.

Ripe for change, new and refreshed co-brand programs may leverage merchants' increased power to influence payment acceptance.
Ken Paterson, VP for Research Operations at Mercator Advisory Group and one of the authors of the report comments that, "Those who have been around the card industry for 20 or more years will find some irony in calling co-branded cards a mature product. Those who lived through the early 1990s will recall that great chunks of market share -- literally millions of accounts -- were being moved with one co-branded introduction after another. But while the idea of a commercial brand on a credit card has become routine, the brands remain unique. Co-branded programs once revolutionized the industry; why not once again?"
One of the 6 exhibits and 5 tables included in this report.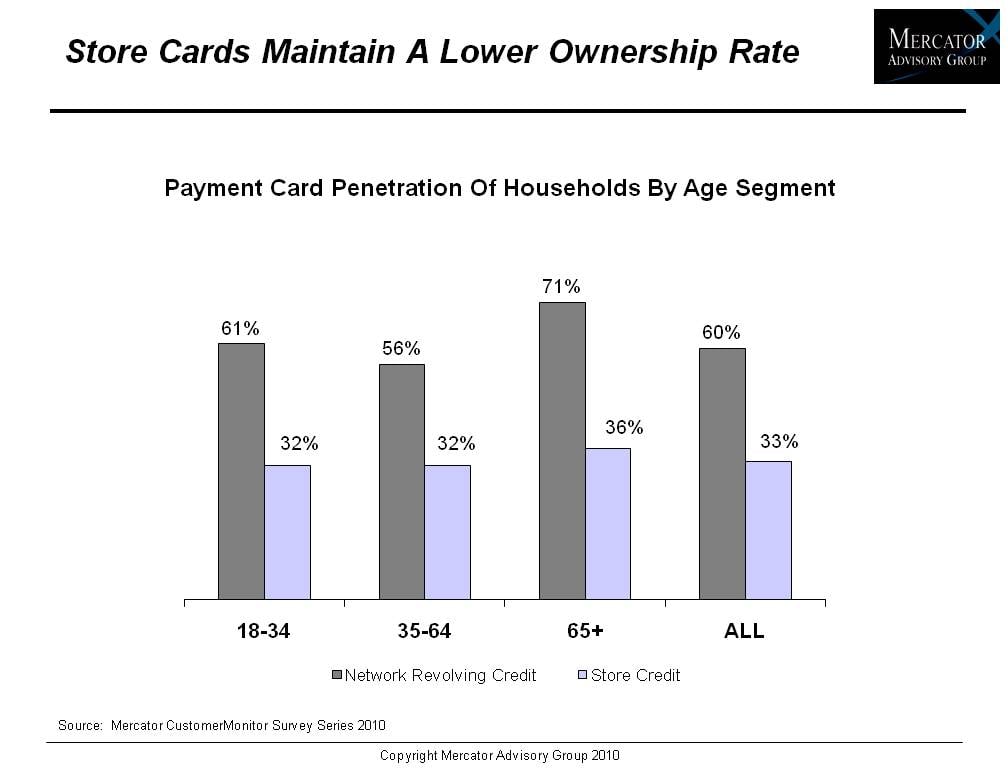 The report is 31 pages long and contains 6 exhibits.

Companies mentioned include: Bank of America, BarclayCard US, GE Money, Citi, Chase, Target, Macys, Home Depot, Nordstrom, Visa, MasterCard, American Express, Discover.
Members of Mercator Advisory Group have access to this report as well as the upcoming research for the year ahead, presentations, analyst access and other membership benefits.
Please visit us online at www.mercatoradvisorygroup.com.
For more information and media inquiries, please call Mercator Advisory Group's main line: (781) 419-1700, send E-mail to info@mercatoradvisorygroup.com.
Follow us on Twitter @ http://twitter.com/MercatorAdvisor.
About Mercator Advisory Group
Mercator Advisory Group is the leading, independent research and advisory services firm exclusively focused on the payments and banking industries. We deliver pragmatic and timely research and advice designed to help our clients uncover the most lucrative opportunities to maximize revenue growth and contain costs. Our clients range from the world's largest payment issuers, acquirers, processors, merchants and associations to leading technology providers and investors.
---
Interested In This Report