Overview
China's E-Payment Market 2012
New research from Mercator Advisory Group examines regulatory impact and developments in credit, debit, online, and mobile payments
Boston, MA November 16, 2012 China, the world's second largest economy, is also the world's largest payment card market and projected to surpass the United States as the leader in card payments as early as 2013. At the same time, China's payment market remains closed to foreign companies, and international card networks have also been mostly excluded from the domestic market.
Within this landscape, regulatory changes such as the recent World Trade Organization ruling to open financial markets (including the payment card market) will allow international competition and further change in this dynamic arena.
Mercator Advisory Group's latest research report, China's E-Payment Market 2012, provides an overview of China's electronic payments market, including a background of overall macroeconomic growth and trends. Also included are developments in credit and debit card issuing markets, an examination of the acceptance market, and updates in online and mobile payments. In addition, this research reviews strategic issues and changes in the industry, including the slowing credit card market, new payment regulations, the WTO ruling and its impact, the migration to chip cards, and a view of the Chinese co-branded credit card market.
"China's e-payment market is undergoing a very important era of change." Terry Xie, director of Mercator Advisory Group's International Advisory Service and principal analyst on the report, commented. "It is rare to see so many major changes happening at once. And that has major impacts of the global payments industry, more so than many have realized. The local banking and payments industry is trying to adapt to the new era, and so should the global payments industry and the players in it, who may need to reevaluate their China strategy as well as their global strategies."
Highlights of the research findings include:
- Growth rates for the e-payment market, projections for the total number of credit and debit cards, and their total purchase value
- Current credit card growth projections
- The factors putting banking profit margins under increasing pressure.
- The fastest growing and most quickly evolving markets and the market dynamics influencing the shifts
- The impact of the WTO ruling on foreign banks and card networks, and possible future actions by both entities
One of the 15 exhibits included in this report: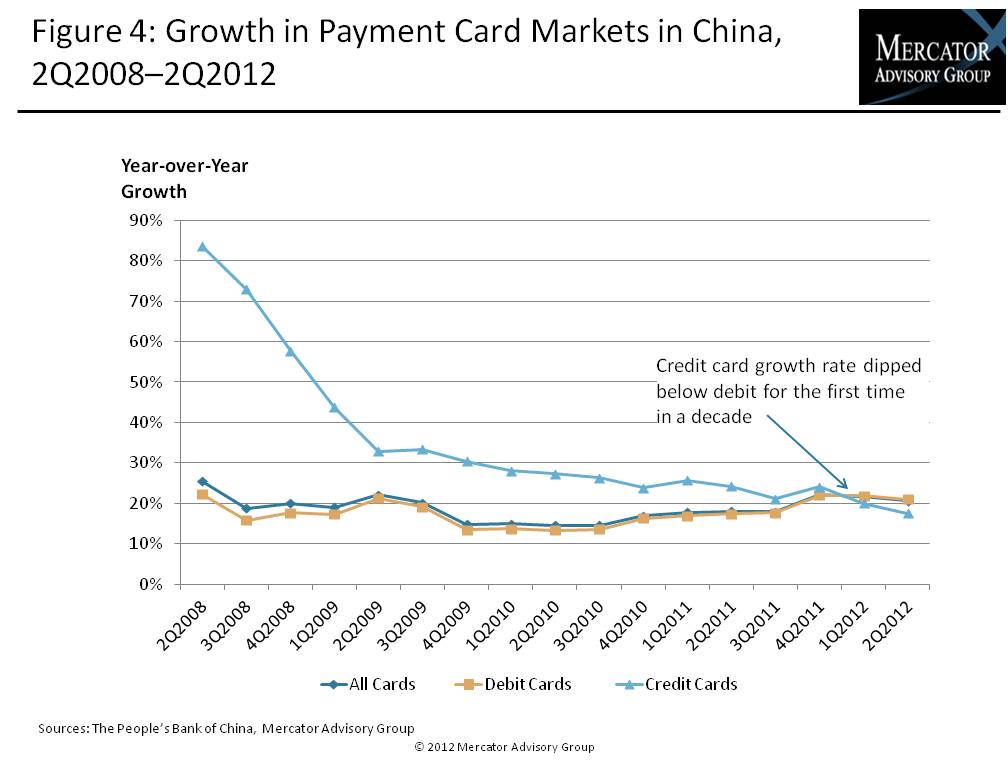 The report is 30 pages long and contains 15 exhibits.
Companies and services mentioned in this report include: Alipay, Bank of America, China Merchants Bank, China Mobile, ChinaPay, China UnionPay, Citibank, Communications Bank of China (CBC), East Asia Bank, Hainan Airlines, Haihang Xinsheng, Haihang Yisheng, HTC, Industrial and Commercial Bank of China (ICBC), MasterCard, NetEase, Shunfeng Express, Suning, Tenpay, MasterCard, Union MobilePay, Visa, and 360Buy.
Members of Mercator Advisory International Advisory Service have access to this report as well as the upcoming research for the year ahead, presentations, analyst access and other membership benefits.
Please visit us online at www.mercatoradvisorygroup.com.
For more information and media inquiries, please call Mercator Advisory Group's main line: (781) 419-1700, send E-mail to info@mercatoradvisorygroup.com.
Follow us on Twitter @ http://twitter.com/MercatorAdvisor.
About Mercator Advisory Group
Mercator Advisory Group is the leading, independent research and advisory services firm exclusively focused on the payments and banking industries. We deliver pragmatic and timely research and advice designed to help our clients uncover the most lucrative opportunities to maximize revenue growth and contain costs. Our clients range from the world's largest payment issuers, acquirers, processors, merchants and associations to leading technology providers and investors. Mercator Advisory Group is also the publisher of the online payments and banking news and information portal PaymentsJournal.com.
---
Interested In This Report