Overview
China Payment Card Market Update
New Research Report by Mercator Advisory Group
Boston, MA -- China, the world's single largest credit and debit card market by number of cards, continued to record significant growth throughout 2011 despite signals of a slowing economic growth. Surprisingly strong growth in Chinese consumer spending and the increasing penetration of cards in people's daily lives are the two main forces boosting the payment card industry.
In 2012 China faces weakening demand from global markets. The government is trying to manage a soft economic landing while avoiding sudden shock for its populace. At the same time, keeping the real estate bubble and inflation under control are no small tasks.
Chinese banks are adjusting their card market strategy to focus on organic growth from existing customers rather than quickly expanding their customer base at a time of increasing uncertainty and diminishing capital pools. Debit cards continue to generate strong revenue growth for banks as credit card markets slow.
"China is unquestionably the world's highlight when it comes to growth in payment card markets," commented Terry Xie, Director of Mercator Advisory Group's International Advisory Service and principal analyst on the report. "The growth has been tremendous, especially considering China is already one of the world's largest payment card markets. At the rates it has been growing, it will surpass the European market and compete with the U.S. market in transactions sooner than many industry observers have imagined. Now the issue is whether the growth is sustainable at the current high level as the overall economy in China adjusts."
Mercator's latest research discusses the impact of the current macroeconomic environment in China on the Chinese payment card industry. The report provides an overview of the credit and debit card markets in China for 2010 and the first three quarters of 2011 as well as forecasts for the whole year 2011. The report also examines other trends. Prepaid cards are covered separately in Mercator Advisory Group report Prepaid Card Market in China 2010 (published in May 2011) and several related research notes.
Highlights of the research findings include:
China has surpassed the United States as the world's largest card market in number of cards in use, recording even throughout the recent global recession.
Consumer spending continues to be strong in China, with consumer spending using cards accounting for a bigger piece of total spending than ever before.

By the end of 2010, there were 2.4 billion credit and debit cards in circulation in China, more than twice the number in use in the United States. Spending on cards reached close to half that in the U.S.
The growth rate of the credit card market has decreased from a couple of years ago. Credit card issuers, under increased pressure to be profitable, are taking a more conservative approach.
The debit card market continues to record strong growth. On average, an adult in China carried 2.2 debit cards at the end of 2010, a year in which the total number of debit cards increased by 16.2 percent and spending on debit cards grew an estimated 47.5 percent.
Online payment and mobile payment are growing rapidly as more consumers find online shopping convenient and safe. Payment service providers are also working hard to bring better products and services to the market.
One of the 10 exhibits included in this report: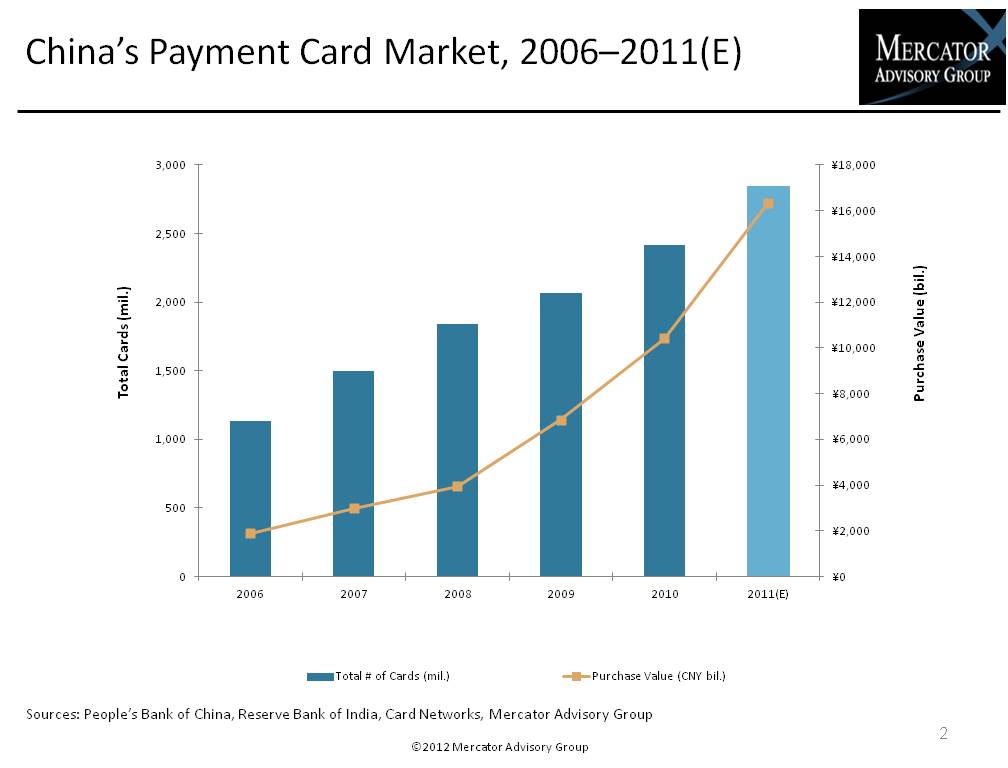 This report contains 26 pages and 10 exhibits.
Companies mentioned in this report include: AliPay, Agricultural Bank of China, Bank of China, China Construction Bank, China Merchants Bank, ChinaPay, China UMS, China UnionPay, CITIC Bank, ICBC, Minsheng Bank, and TenPay, among others.
Members of Mercator Advisory Group's International Advisory Service have access to this report as well as the upcoming research for the year ahead, presentations, analyst access and other membership benefits.
Please visit us online at www.mercatoradvisorygroup.com.
For more information and media inquiries, please call Mercator Advisory Group's main line: (781) 419-1700, send E-mail to info@mercatoradvisorygroup.com. For free industry news, opinions, research, company information and more visit us at www.PaymentsJournal.com.
Follow us on Twitter @ http://twitter.com/MercatorAdvisor.
About Mercator Advisory Group
Mercator Advisory Group is the leading, independent research and advisory services firm exclusively focused on the payments and banking industries. We deliver pragmatic and timely research and advice designed to help our clients uncover the most lucrative opportunities to maximize revenue growth and contain costs. Our clients range from the world's largest payment issuers, acquirers, processors, merchants and associations to leading technology providers and investors. Mercator Advisory Group is also the publisher of the online payments and banking news and information portal PaymentsJournal.com.
---
Interested In This Report