Overview
A new report titled The CFPB Final Prepaid Rule Is Here: What Now? Start with Disclosures and Marketing provides a first look at the elements of the final prepaid rule published by the Consumer Financial Protection Bureau in October 2016. The nearly 1700-page rule covers a number of topics, including the definition of prepaid, disclosures, error resolution, and the relationship of prepaid and credit.
Mercator Advisory Group's report focuses on the near-term concerns for prepaid providers, who need to bring programs into compliance by October 1, 2017. Because of the breadth and depth of the prepaid regulations, the report highlights the topics of disclosures, error resolutions, overdraft, and marketing concerns.
This report encourages providers to double check everything because, even though prepaid programs have done plenty of work in anticipation of the rule, fine tuning of the final rule by the CFPB means that the final versions of the disclosure forms are different than what was proposed earlier.
"Prepaid card providers have a lot of work to do in one year, but the industry will be able to take action and continue providing an important financial tool," Ben Jackson, director of Mercator Advisory Group's Prepaid Advisory Service, and author of the report, comments.
---
One of the exhibits included in this report: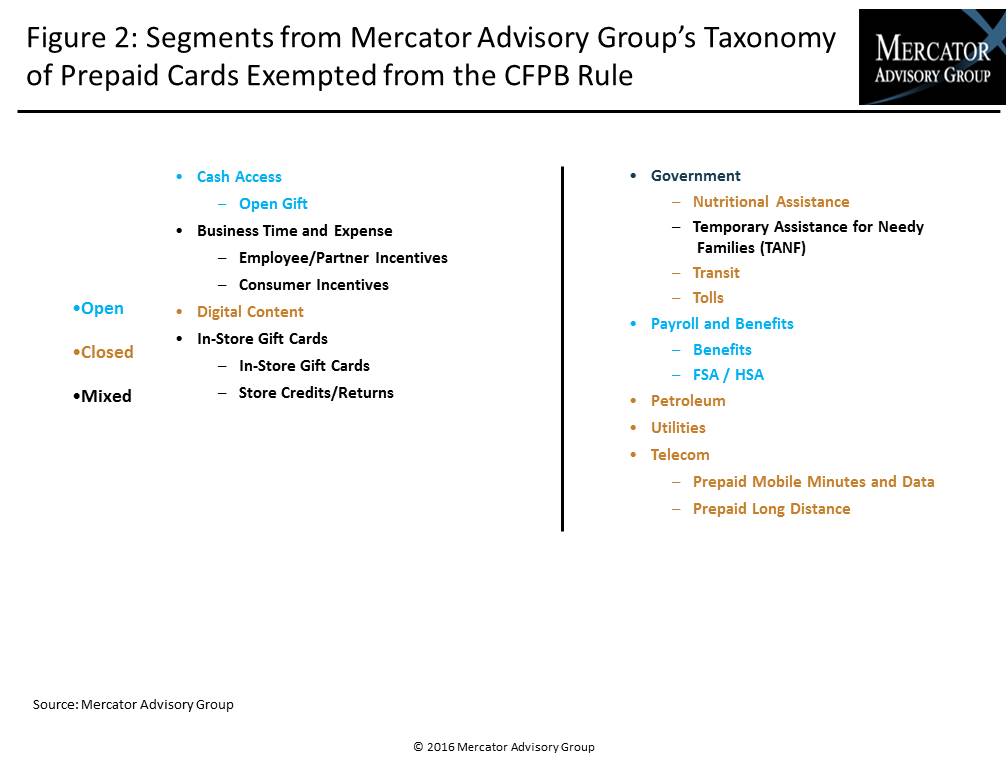 ---
Highlights of the report include:

The Consumer Financial Protection Bureau (CFPB) has released a proposed prepaid rule after two years and has asked the payments industry to respond in 90 days.
The 1689-page rule is nearly three times as long as the rules that implemented Durbin Amendment to the Dodd-Frank Wall Street Reform and Consumer Protection Act and is loaded with unintended consequences.
The rule would lead to less access and more confusion for prepaid customers, thus harming the consumers it is designed to protect.
The rule also would pull new types of payments companies under the prepaid umbrella and lead to further confusion and frustration among consumers.
Prepaid providers should comment on the rules to address how individual provisions will harm their cardholders and propose alternative rules.
Interested In This Report