Overview
Central and Eastern European
Payment Card Markets: 2009
New report explores greatest developments in the
CEE payment card markets
Boston, MA - October 9, 2009 -- Over the past 20 years or so, Central and Eastern European (CEE) countries have been making strides in building market economies and integrating themselves into the European Community. Modern banking systems, among other things, have been established in many CEE countries and are being established in others. A major theme of the banking market in CEE in the 1990s had been the privatization of previously state-owned banks and foreign banks moving into the region and taking control of local banks.
Today, foreign banks, which now control over 70% of banking assets in the region, are increasingly shifting their strategic focus from acquiring local banks to developing and promoting modern banking products and services to the large consumer base across different countries. Payment cards, most of which ATM-turned-debit cards, are now very popular in many CEE countries. Markets for relatively newer payment products and technologies, such as credit cards, online and mobile payments, are also developing quickly in the region. At the end of 2008, about 262.8 million credit and debit cards were in circulation in 18 countries in the CEE region. These cards generated over 1.6 billion payment transactions worth more than US$110 billion during the year.
There is still tremendous growth opportunity for payment products and services in the CEE region. However, the global economic downturn has taken its toll on the development of banking and payments markets in the CEE region, forcing banks to reconsider their strategic priorities and business plans in a much more challenging environment.
"CEE countries' payment card markets have lots of potential in developing their various. But some countries' heavy reliance on Western capital has put them in a less than desirable situation in today's global economic downturn and credit crunch." Terry Xie, Director of Mercator Advisory Group's International Advisory Service and principal analyst on the report comments. "Banks will have to find ways to develop products and services that could meet the growing consumer needs within the region."
The Central and Eastern European Payment Card Markets: 2009 report from Mercator provides an overview of the latest developments in the CEE payment card markets. Beside a high-level overview of the economic development in the CEE region with a focus on its banking industry, the payment card market in the region as a whole is discussed in more detail regarding its growth, market characteristics, product-mix, card usage, acceptance, adoption of new card technology (EMV), as well as banking penetration and the potential for prepaid card products. Country-by-country profiles of the payment card markets are also provided.
Highlights of the report include:
Partially thanks to the infusion of western capital and banking expertise, CEE countries have become the fastest-growing and most dynamic payment card markets in Europe and represent major opportunities for a variety of payment products.

CEE markets continued to record fast growth in 2008. But due to the impacts of the global economic downturn and credit crunch, the growth is expected to slow down in 2009 and 2010.

Despite the

geographical proximity

, CEE payment markets often display vastly different characteristics. Payment industry participants must adapt their offerings to each market, and cope with these varied conditions.

Debit cards still dominate in the region. But credit cards are quickly gaining popularity in some countries. Prepaid cards have a lot of potential especially in the government and benefits sector.

Looking forward, improving card acceptances at merchants and promoting segment-specific payment products among consumers will play central roles in the growth of the overall CEE payment card markets.
One of the 8 Exhibits included in this report: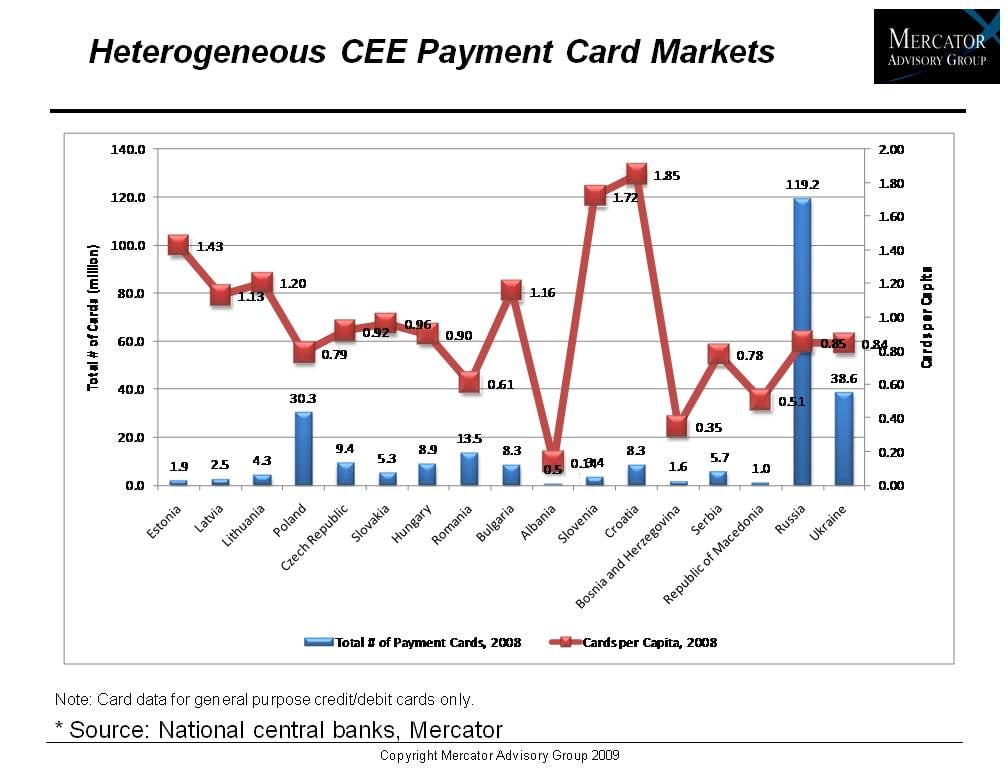 This report contains 35 pages and 8 exhibits.
Companies covered in this report include: Estonia, Latvia, Lithuania, Poland, Czech Republic, Slovakia, Hungary, Romania, Bulgaria, Albania, Slovenia, Croatia, Bosnia and Herzegovina, Serbia, Montenegro, Republic of Macedonia, Russia, and Ukraine.
Members of Mercator Advisory Group have access to these reports as well as the upcoming research for the year ahead, presentations, analyst access and other membership benefits.
Please visit us online at www.mercatoradvisorygroup.com.For more information, please call Mercator Advisory Group's main line: 781-419-1700 or send email to info@mercatoradvisorygroup.com.
Mercator Advisory Group is the leading independent research and advisory services firm exclusively focused on the payments and banking industries. We deliver pragmatic and timely research and advice designed to help our clients uncover the most lucrative opportunities to maximize revenue growth and contain costs. Our clients range from the world's largest payment issuers, acquirers, processors, merchants and associations to leading technology providers and investors.
---
Interested In This Report