Carrier Billing: Teeny Tiny Gets Bigger
Author(s):
Patricia Hewitt
Overview
Carrier billing, otherwise known as bill-to-mobile, is a multibillion dollar industry created out of a need to efficiently process micropayments for digital goods purchased online. Traditional payment industry stakeholders have largely ignored this segment, but as the market for digital goods expands, these solutions are poised for expansion. In new research, Carrier Billing: Teeny Tiny Gets Bigger, Mercator Advisory Group explores the potential of payments for digital content, examines what the industry can learn about delivering convenient and safe one-click payments to the mobile masses, and to what extent these solutions can disrupt the industry.
"Whether financial services companies grab onto this technology or it remains the purview of the media companies that control the market is still an unknown. However, we believe that the industry is searching for more real-time money transfer capabilities," comments Patricia Hewitt, director of Mercator Advisory Group's Debit Advisory Service and author of the report.
---
One of the exhibits included in this report: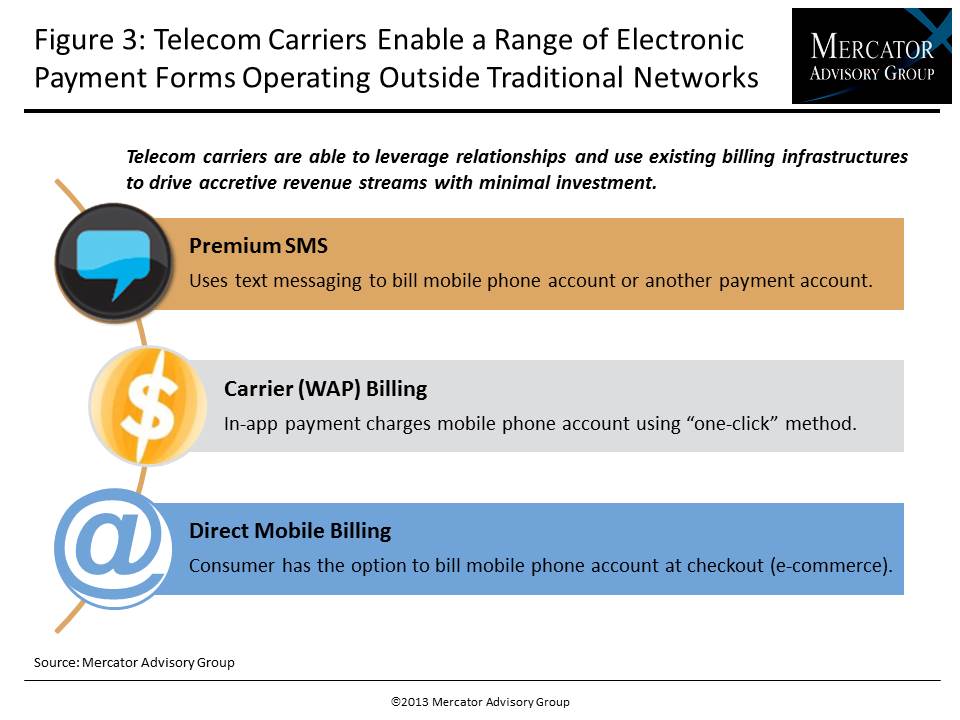 ---
Major highlights of this report include:
A taxonomy of leading companies in this market and their relationship to global telecommunication giants and multifaceted digital media companies

 

Estimates of consumer spend for digital content

 

An overview of carrier billing's business model and primary feature functionality

Analysis of barriers and potential to expand beyond telecom billers to financial institution partners

 

 

 
This report is 21 pages long and has 10 exhibits.
Companies mentioned in this report include: AT&T, Verizon, Sprint, T-Mobile, Google, Apple, Docomo, Danal, Bango, Bill-to-Mobile, Amazon, Hi-Media, PayPal, Buko, Mach, Zong, Syniverse, and Buongiorno.
Members of Mercator Advisory Group's Debit Advisory Service have access to this report as well as the upcoming research for the year ahead, presentations, analyst access and other membership benefits.
Learn More About This Report & Javelin