Capturing the Online Customer: Current and Future Investments in Self-Service
Author(s):
Mercator Research
Overview
Boston, MA
April 2005
Capturing the Online Customer: Current and Future Investments in Self-Service
NEW RESEARCH REPORT BY MERCATOR ADVISORY GROUP
Despite a general slowdown in technology spending over the last six months, consumer credit card issuers have continued to invest in online self-service.  "Capturing the Online Customer: Current and Future Investments in Self-Service," identifies these recent investments in self-service by issuer and feature.  The report highlights the strategic benefits of adding self-services and benchmarks leading issuers in self-service adoption.
"Online self-service is a rare win-win for credit card issuers and their customers.  Card issuers reap the benefits of reduced average transaction costs and increased opportunities to grow organically while customers see improved account access and faster, more consistent, service resolution." according to Michael Friedman, Senior Analyst in Mercator Advisory Group's Emerging Technologies Service and author of the report.
The report identifies the four distinct benefits self-service features offer to issuers.  Though well documented, the savings afforded to issuers in terms of average cost per service transaction from self-service are substantial and cannot be ignored.  Second, self-service features help issuers to grow organically through cross- and up-sell opportunities.  In addition, revenue is generated through the sheer availability of services like balance transfer requests and credit limit increases.  Third, self-service features can improve customer loyalty by making sites more sticky.  Finally, in an industry not used to competing on service, the best self-service features may allow issuers to steal and retain highly prized online customers.
The report examines both the current and historic pattern of self-service investment with an eye towards business goals.  Online self-service has traditionally focused on cost-savings service features as opposed to those offering revenue generating possibilities.  Furthermore, features which lead to online migration, a significant bottleneck in the process of moving customers online, are less interesting to issuers based on investment trends.
The report also identifies two self-service technologies beginning to make entrance in the credit card space.  Online delinquency curing is examined with a focus on competing solutions by leading service vendors.  Also explored are advanced knowledge transfer tools.  While leading issuers have employed fairly simply FAQ solutions to assist customers with inquiries, advanced search tools like natural language and guided search technologies are discussed with regards to their ability to service online customers.
One of Four Exhibits included in this report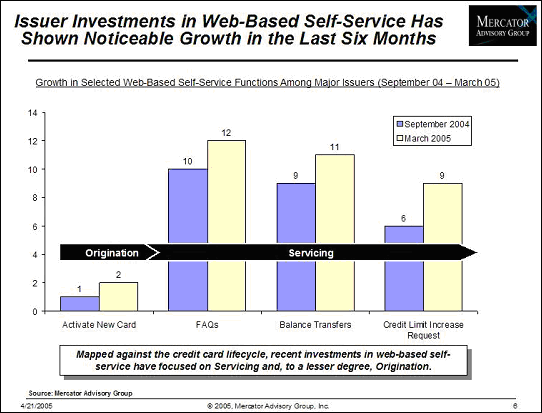 The report is 26 pages and contains four exhibits.
Members of Mercator Advisory Group have access to these reports as well as the upcoming research for the year ahead, presentations, analyst access and other membership benefits. Please visit us online at www.mercatoradvisorygroup.com.
For more information call Mercator Advisory Group's main line: 508-845-5400 or send email to info@mercatoradvisorygroup.com.
---
Interested In This Report