Overview
Canadian Payment Card Market 2012
New research from Mercator Advisory Group examines consumer payment behavior and dynamics in a dynamic market
Boston, MA -- October 31, 2012 - Canada is the one of the world's largest and most rapidly evolving payment card markets. At the end of 2011, close to 80 million network-branded credit cards were in circulation (up about 6% from a year earlier), and the market itself has consistently recorded growth in the number of cards in circulation. In addition, purchase transactions and purchase value on Canadian credit cards have shown steady, strong growth.
At the same time, this card industry faces challenges from different fronts. The economy slowdown in the first quarter of 2012 raised concerns about consumer spending growth, and the tightening regulatory environment might significantly impact the profitability of the industry in the short term.
"The Canadian credit card market is developed but growing," Terry Xie, director of Mercator Advisory Group's International Advisory Service and principal analyst on the report, commented. "Although this market is somewhat saturated and can be overshadowed by the U.S. market, it continues to evolve. And with potential changes forced by regulators and the government ahead, the market may experience further shifts in business model that will open new market opportunities."
Canadian Payment Card Market 2012, Mercator's latest report, provides an updated view of this market paired with an overlay perspective on overall macro economic growth and consumer payment behavior to provide background and context. Topics covered in this research include: dynamics in the business ecosystem, market growth, major players, changes in the industry landscape, and major developments in the regulatory environment.
Highlights of the research findings include:
- The effects of the global economic recession on the Canadian economy, overall consumer confidence and spending levels
- Trends in Canadian card market growth and usage Updates to card circulation and a side-by-side view of statistics compared to the United States
- The behavior of Canadian credit card users that has benefited issuers and the industry as a whole
- A view of the current regulatory environment and how upcoming changes stand to impact the industry
One of the 14 exhibits included in this report: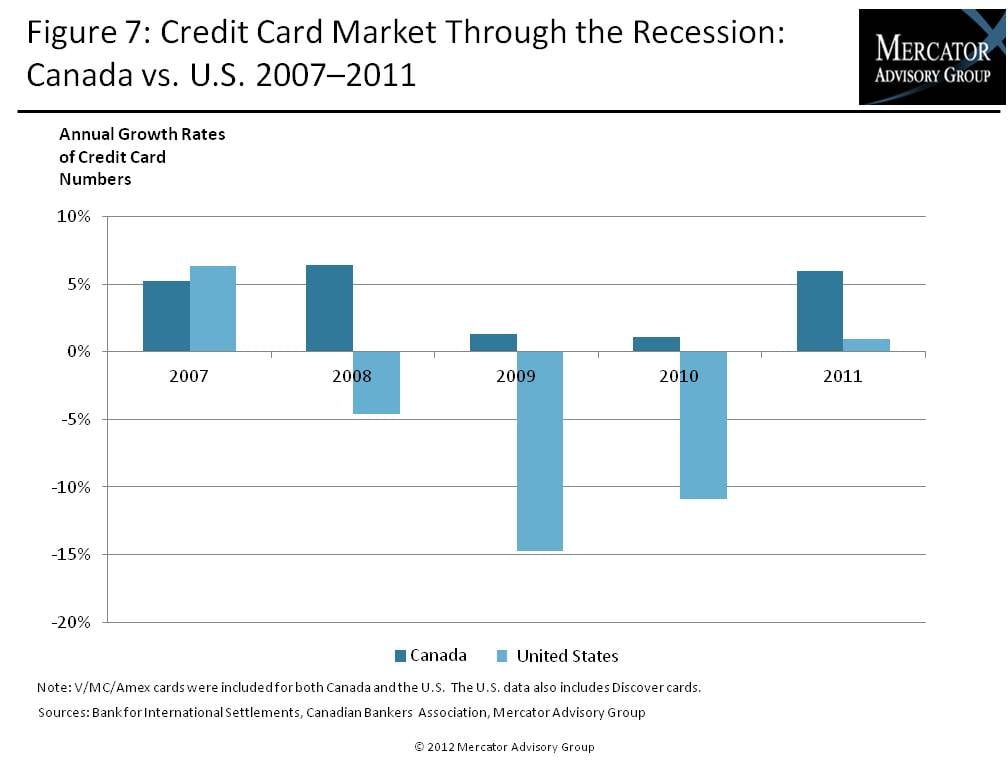 The report is 29 pages long and contains 14 exhibits.
Companies and services mentioned in this report include: Bank of Montreal, Bank of Nova Scotia, Canadian Imperial Bank of Commerce (CIBC), Chase Paymentech, Mastercard, Moneris, Royal Bank of Canada, TD Bank, TSYS, and Visa.
Members of Mercator Advisory Group's International Advisory Service have access to this report as well as the upcoming research for the year ahead, presentations, analyst access and other membership benefits.
Please visit us online at www.mercatoradvisorygroup.com.
For more information and media inquiries, please call Mercator Advisory Group's main line: (781) 419-1700, send E-mail to info@mercatoradvisorygroup.com.
Follow us on Twitter @ http://twitter.com/MercatorAdvisor.
About Mercator Advisory Group
Mercator Advisory Group is the leading, independent research and advisory services firm exclusively focused on the payments and banking industries. We deliver pragmatic and timely research and advice designed to help our clients uncover the most lucrative opportunities to maximize revenue growth and contain costs. Our clients range from the world's largest payment issuers, acquirers, processors, merchants and associations to leading technology providers and investors. Mercator Advisory Group is also the publisher of the online payments and banking news and information portal PaymentsJournal.com.
---
Interested In This Report