Overview
Since 2004, Mercator Advisory Group has been measuring the size of the prepaid market in the United States. Early in 2016, the Canadian Prepaid Providers Organization (CPPO) asked Mercator Advisory Group to bring its benchmarking process to the Canadian open-loop prepaid market. Working with the CPPO and Canadian issuers, Mercator created the taxonomy shown in the exhibit below for measuring the Canadian open-loop prepaid market. This benchmark identifies opportunities, according to Mercator Advisory Group's latest research, The Canadian Open-Loop Prepaid Market: 2016.
This taxonomy formed the basis of the survey that we sent to issuers and program managers. Three categories define the market more broadly than in the U.S. benchmark, both because the Canadian market is different and smaller than the U.S. market and to facilitate confidential reporting. Since this is just the second year of benchmarking the Canadian market, the taxonomy may evolve as new categories become active and new information is made available from one year to the next.
"As in the United States, the future of Canadian prepaid depends on providers finding places where their cards can displace cash and checks, and where prepaid cards can become a means for distributing value that is more efficient than other forms of payment. In many instances prepaid cards offer advantages over other payment types for distributing value, such as providing instantly issued cards that are immediately usable by the recipient, limiting funding costs, and reducing risks of fraud," commented C. Sue Brown, Director, Prepaid Advisory Service.

This research note contains 15 pages and 10 exhibits. 
---
One of the exhibits included in this report: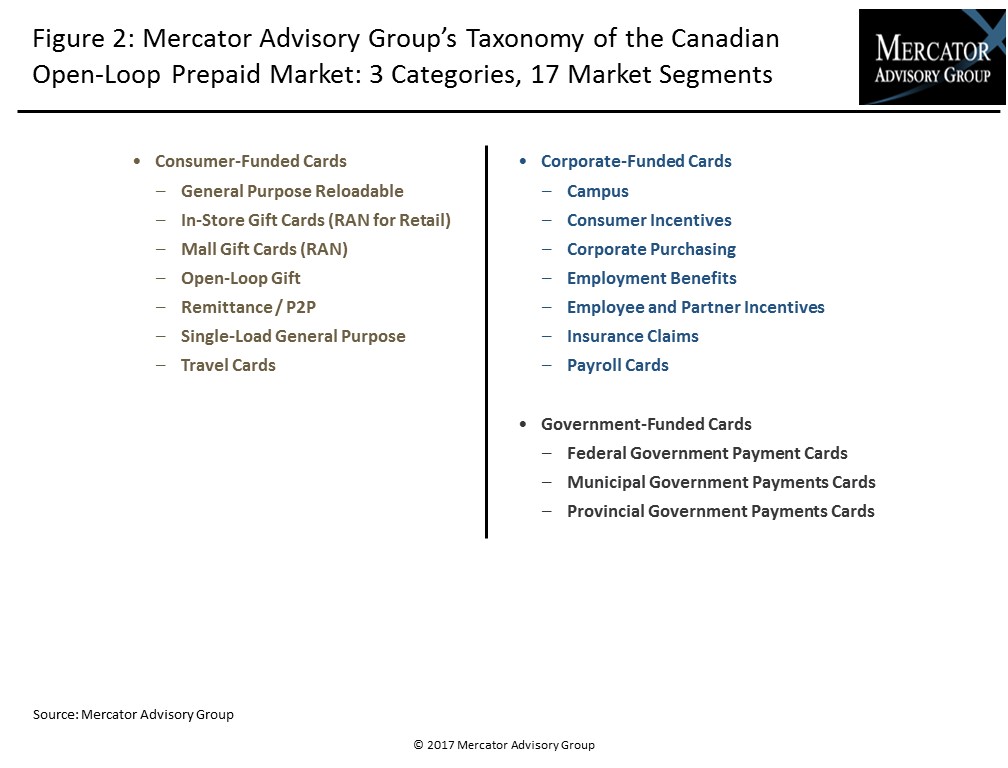 ---
Highlights of the Research Include:
Mercator Advisory Group was asked by the Canadian Prepaid Providers Organization (CPPO) to benchmark the size of the Canadian open-loop prepaid market for 2016.
Mercator undertook a survey of program managers and issuers to identify the size of the market and what active segments exist.
The Canadian open-loop prepaid market has nine active segments out of a possible 17. This suggests that there is room for future growth in the market.
The total market size is CAD$3.6 billion in dollars loaded onto open-loop prepaid cards, an increase of 17.4% over the prior year.
There is room for additional growth in prepaid debit cards categories and types or segments.
Learn More About This Report & Javelin