Buyer PaymentsInsights – Payments Behavior: Looking at Buyers through the Lens of Segmentation
Overview
Mercator Advisory Group's latest Primary Data report, Looking at Buyers through the Lens of Segmentation is based on the company's 2020 Buyer PaymentsInsights Survey. The online survey of 3,002 U.S. adult consumers, which was conducted in February 2020, explores consumers' experiences as they shop in-store, online, and via mixed channels. The survey was designed with the goal of defining and highlighting consumer expectations for optimal experiences with merchants.
This third report of three on the survey's findings explores how using segmentation techniques can help companies refine their strategies by placing a focus on likely buyers or users. These segmentation approaches are designed to demonstrate different methods for dividing the population into targeted, preferred groups of buyers. The report looks at the increasing popularity of in-store ATMs.
Peter Reville, Director, Primary Research Services, Mercator Advisory Group, the author of this report comments, "Segmentation is not a new tool in a strategist's tool kit, but we wanted to show examples of how it can be a powerful tool in understanding the American consumer. One segmentation lens we use is attitudinal – looking at how survey participants feel about technology in their lives. The second is more behavioral, and groups shoppers by how they use cash in their day-to-day shopping. "
---
One of the exhibits included in this report: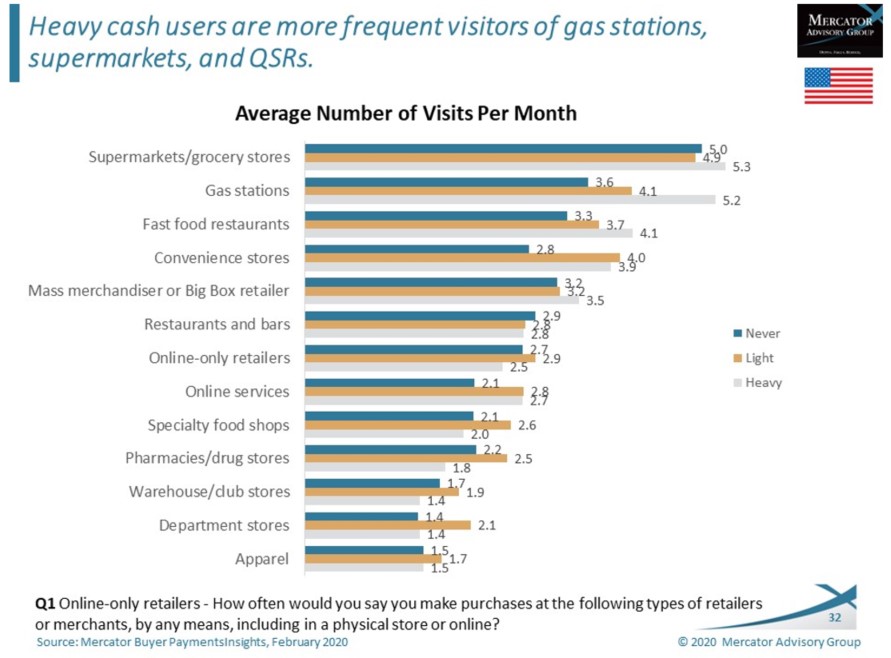 ---
Highlights:
Tech forward consumers are more likely than laggards or average consumers to use charge cards and reloadable open-loop prepaid cards.
As their name suggests, the tech forward consumer is much more likely to pay with their smartphone and much more likely to use conversational interfaces built into smartphones and smart speakers.
The heavy cash users tend to be less educated, older, and lower income.
Heavy cash users are more frequent visitors to gas stations, QSRs, and grocery stores. They tend to be more frequent shoppers, overall, when compared with the light cash users or never cash users.
There has been a significant increase in the reported use of in-store ATMs year-over-year. In 2019, 38% reported using an in-store ATM. In 2020, that jumped to 46%.
In-store ATMs have the potential to increase foot traffic. One third of in-store ATM users visited the store for the sole purpose of using the ATM.
Interested In This Report
Related content
Even as interest in cash slides there is still a place for in-store ATMs, with more than half of consumers using one in the past year.
Mercator Advisory Group's most recent consumer survey report from its annual Buyer PaymentsInsights series, examines U.S. consumers' current shopping habits for goods and services ...
Mercator Advisory Group's most recent consumer survey report from our annual Buyer PaymentsInsights series examines significant consumer buying habits.