Business Credit Cards and B2B Payments: Opportunity to Improve Market Penetration
Author(s):
Karen Augustine
Overview
In spring 2018, Mercator Advisory Group fielded its third annual web-based survey of U.S. small businesses (between $500,000 and $10 million annual sales) regarding payment acceptance, business-to-business, or B2B,-payments and use of banking services and alternative lenders. Business Credit Cards and B2B Payments: Opportunity to Improve Market Penetration is the second of three reports summarizing the results of the 2018 Small Business Payments and Banking Survey.
The survey finds that fewer small businesses report using business credit cards than did in the previous years' surveys (61% in 2018, down from 71% in 2017 and 69% in 2016). Millennial owners aged 18 to 34 are less likely than older owners to use business credit cards and more likely than older owners to use their own personal credit card, charge card, or debit card.
More than 2 in 5 U.S. small businesses report that cash flow management is a concern to their day-to-day operations, including nearly half of owners; more millennials than older adults report this to be the case. Half of small businesses who use business credit cards tend to borrow on them, including 1 in 4 who regularly do so. Millennial owners are more likely than older owners to regularly borrow on their business credit cards.
Cash flow concerns cause small businesses to use credit lines wherever they can, seeking more generous credit lines from business credit cards and loans from banks, nonbanks, and alternative lenders.
The responses to a survey question asking about the importance of business credit card features revealed, surprisingly, that more firms consider important features of a credit card to be no annual fee (79%), good customer service (78%), and a generous credit line (usually over $10,000) (77%) than consider rewards important (75%), rewards being a feature that most business credit cards do offer. A competitive APR rate (74%) is also important to small firms, for whom borrowing on credit is common. Among the rewards offered, cash back is important to more firms than are airline travel rewards or merchandise rewards.
"Small business owners worry about cash flow and often use credit cards to borrow in a pinch. Fewer small businesses report using business credit cards in 2018, as they need to have an adequate credit line with good customer service to be able to use the cards for more purchases. While rewards are important, they need credit and don't want to have to pay an annual fee for having the card. There's an opportunity for issuers to move more B2B purchases on personal credit cards over to business credit cards, particularly for millennial owners," notes Karen Augustine, Mercator Advisory Group's Senior Manager of Primary Data Services, the author of this report.
In total, over 2,000 key decision makers and influencers in U.S. small businesses with annual sales of $500,000 to $10 million were surveyed in March 2018, weighted to reflect the demographic profile of U.S. small businesses according to the latest U.S. County Business Patterns data by NAICS classification code. Previous surveys in this series, conducted in 2016 and 2017, were not weighted and used a targeted sample of small businesses by size that accept payment cards, making year-to-year comparisons of the responses to some survey questions difficult. Yet, 95% of the 2018 sample accepts payment cards.
This report contains 46 pages in slide form and 24 exhibits.
Companies mentioned include: American Express, Kabbage, Lending Club, Mastercard, OnDeck Capital, PayPal, Prosper, and Visa.
---
One of the exhibits included in this report: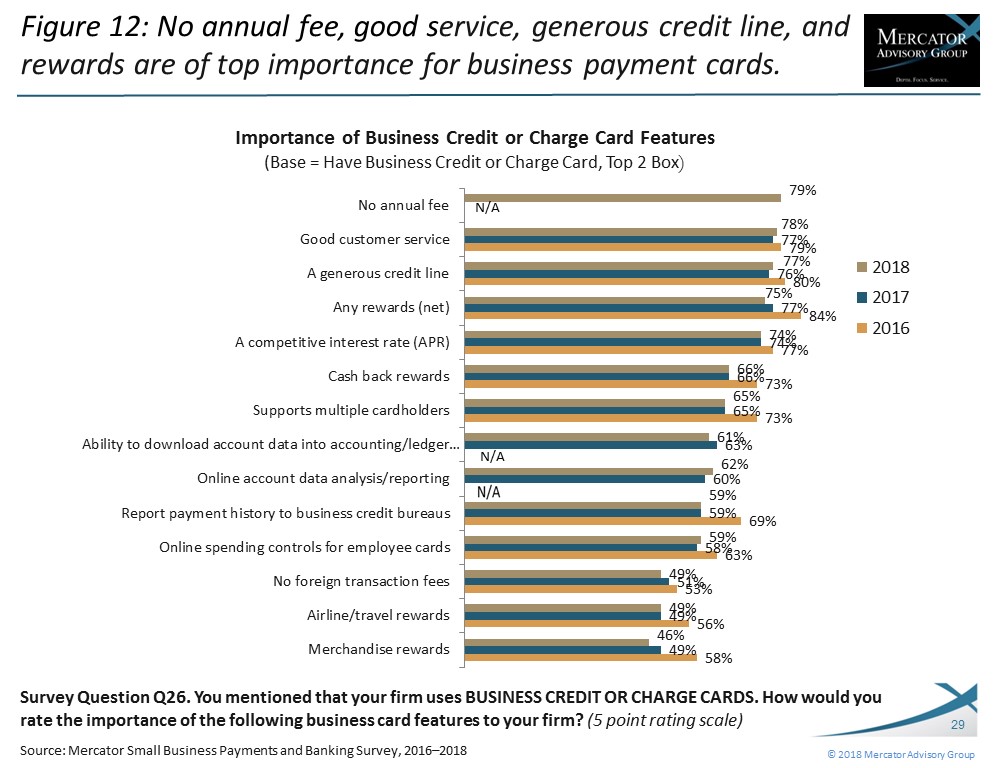 ---
Highlights of this Insight Summary Report include:
Most common methods of payment used for business-to-business (B2B) payments

 

Number of employees in a firm that have a business credit or charge card

 

Network brand of business credit or charge card used

 

Most important features for business credit cards and features currently offered on business credit or charge card used most often

 

Business credit card payment behavior

 

Use of credit lines on business credit cards

 

Reasons for using personal credit or charge cards for B2B payments

 

Frequency of purchase delays resulting from cash flow concerns and rating of concerns

 

Experience with online alternative marketplace lenders and reasons for using them

 

Outlook on borrowing, revenues, profitability, and employment growth

 
Interested In This Report