Business Banking Services: Keeping Up with Millennial Owners
Author(s):
Karen Augustine
Overview
Mercator Advisory Group's latest report, Business Banking Services: Keeping Up with Millennial Owners, is the third of three Insight Summary Reports summarizing the results of the 2017 U.S. Small Business Payments and Banking Survey, a web-based survey of 1,638 U.S. small businesses (between $500,000 and $5 million annual sales) that accept payment cards, which was fielded in the spring of 2017. The previous two reports presented the survey's findings on payment acceptance and business-to-business payments. The new report analyzes small businesses' use of banking services and alternative lenders.
The survey finds that 27% of U.S. small businesses use online alternative lenders (also known peer-to-peer lenders or marketplace lending platforms), though slightly fewer than in 2016 and nearly half have ever used such a lender. Notably, businesses owned by Millennials, aged 18–34, are nearly twice as likely as businesses owned by older owners to use alternative lenders to finance their businesses, as 48% of Millennial owners report they currently have a loan from an alternative lender compared to 25% of businesses that are run by owners aged 35 or older. The primary reason for using alternative lenders, they say, is that the loan approval process is easier with such a lender and they get their funding faster. Only 7% say they use alternative lenders for a better interest rate.
Small businesses need to take out a wide variety of loans to keep their businesses running and manage their cash flow. For instance, more than 4 in 5 small businesses have a line of credit for their business, and Millennial owners are more likely than average to do so and less likely to have their line of credit at their primary business bank.
"Small businesses need loans to run their businesses as they are often constrained by cash flow management challenges. They need access to credit wherever they can get it and will look outside of their banks for it. They are more likely to borrow on credit cards and to use personal accounts, and they often need to delay routine purchases due to cash flow constraints. Ease of loan application and faster funding are of critical importance," notes Karen Augustine, Mercator Advisory Group's Senior Manager of Primary Data Services, the author of this report.
Companies mentioned include: Kabbage, Lending Club, OnDeck Capital, and Prosper.
---
One of the exhibits included in this report: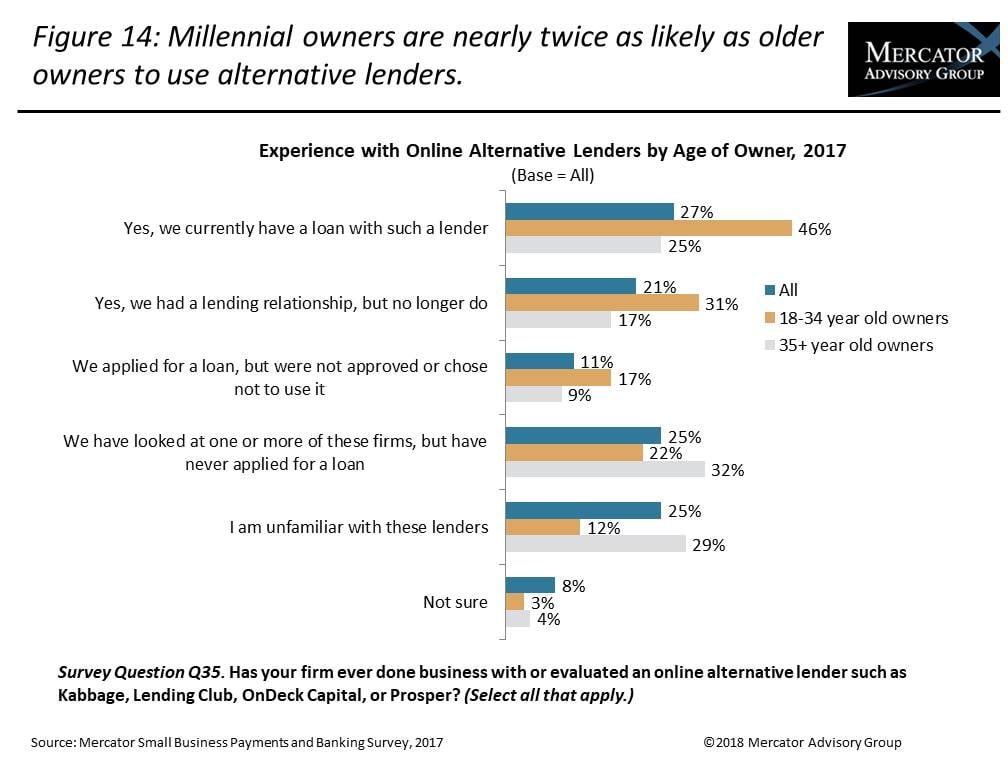 ---
Highlights of this Insight Summary Report include:
Business checking and deposit services and transactional service used at banks, credit unions, and other providers

 

Types of loans held at primary or other banks or credit unions and at other providers

 

Experience with online alternative lenders (marketplace lending platforms) and reasons for use

 

Use of merchant cash advance and working capital loans

 

Use of branch, types of activities conducted at branch for deposits, ATM, advice, and support

 

Use and interest in online and mobile banking capabilities

 

Preference for online bill-pay

 

Wealth management relationship at primary financial institution

 

Satisfaction with primary business bank's dedication to small business

 
Learn More About This Report & Javelin