Business Banking Services: Expanding Online and Mobile
Author(s):
Karen Augustine
Overview
Mercator Advisory Group's latest report, Business Banking Services: Expanding Online and Mobile,is the third of three Insight Summary Reports summarizing the results of the 2016 Small Business Payments and Banking Survey, a web-based survey of 1,607 U.S. small businesses (between $500,000 and $5 million annual sales) that accept payment cards, which was fielded in March 2016. The previous two reports presented the survey's findings on payment acceptance and business-to-business payments. The new report analyzes small businesses' use of banking services and alternative lenders.
The survey finds that 84% of small businesses most commonly visit branches to make teller deposits and 47% make deposits at ATMs. Nearly all small businesses surveyed regularly visit the branch of their business bank or credit union, but far fewer, 1 in 5, go to the branch to meet with a relationship manager.
Branches are still a key channel used by small businesses and present an opportunity for financial institutions to cross-sell their business services. Yet, these branch visits are primarily transactional. More often than not, small business owners stop by their branch just to make simple transactions rather than to seek financial advice or support services, so their visits are a missed opportunity for the financial institutions. Nearly all small businesses have business relationships with a primary financial institution for deposit accounts and use the institution's online banking services; 3 in 4 use mobile banking services. More robust online and mobile banking features provide the convenience this segment needs.
"While small businesses visit the branches primarily for quick and simple transactions, they would like to see improvements in online and mobile banking geared to help their businesses transact more easily and provide more services they need to manage and grow their business," notes Karen Augustine, Mercator Advisory Group's Senior Manager of Primary Data Services, the author of this report.
This report contains 40 pages and 24 exhibits.
---
One of the exhibits included in this report: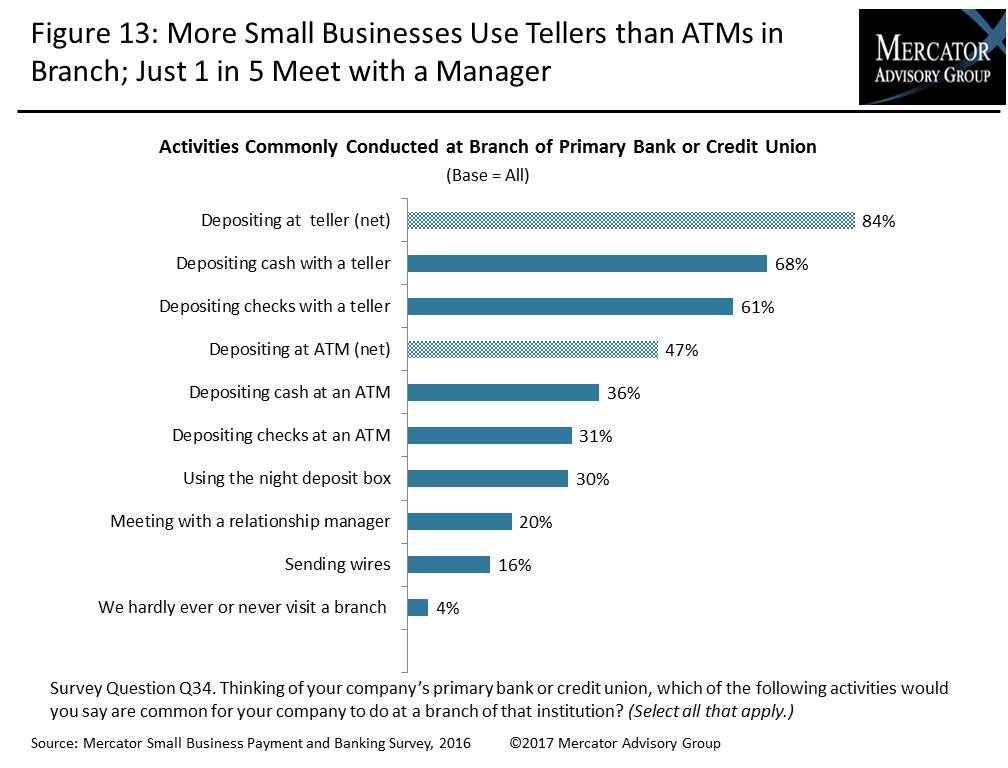 ---
Highlights of this Insight Summary Report include:

Business checking and deposit services used
Types of loans held at primary or other banks or credit unions
Use and interest in online and mobile banking capabilities
Preference for online bill-pay
Experience with online alternative marketplace lenders and reasons for use
Wealth management relationship at primary FI
Learn More About This Report & Javelin