Overview
Boston, MA
November 2008
Brave New World Order

The Recent Mega-Mergers, the Economy, and Their Impact on the Payments Industry
NEW RESEARCH REPORT BY MERCATOR ADVISORY GROUP
Several of the largest commercial banks in the United States are currently involved in mergers that stand to have a significant impact on the payments industry. The recent merger activity and consumer payment trends are driven by an economy in recession. All of the major key indicators are pointing to a steep recession just in its beginning stages, providing a dramatic backdrop for the mergers.
Within the payments space, observers and operatives have noticed a movement toward debit payments and away from credit. This shift coupled with the tightening credit environment will accelerate consumers' already increasing adoption of prepaid and debit payment instruments, including cards and checks, and cash payments will likely also see a resurgence. Financially stressed consumers are trying to gain greater control over their budgets and increasingly protect themselves from overdraft and other retail banking fees. Households are focusing on aggressive spend management and account balance monitoring. The movement back to cash-based payments could also create more transaction volume for EFT networks. The flight to the relative safety of debit and prepaid will include even larger ticket items that would previously have been charged to credit cards.
Tightening credit coupled with rising unemployment, however, may not bode so well for overall consumer spending. As consumers' finances are further squeezed, personal consumption may fall to the point where all payment categories feel the sting of a recessionary economy, even debit. Though the secular trend in the payments space has been toward a general electronification of both consumer and business payments of all kinds (credit, debit, and prepaid), decreased spending could impact overall electronic payments growth, not just the trend line for credit cards. Regardless of the danger of declining volume growth or even shrinking volume, it is Mercator's firm belief that payments will continue to provide no small measure of insulation against market and economic volatility, both for the new mega-banks as well as the smaller financial institutions deeply involved in the payments industry.
One of the 17 Exhibits included in this report.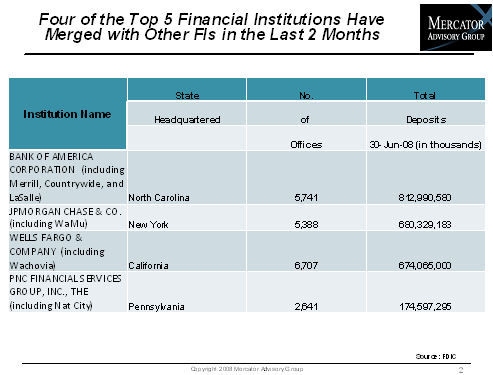 Report Highlights:
The Payment Industry Landscape is ever-changing, but the recent bank mergers have accelerated that change.

Payments still provide no small measure of insulation against market and economic volatility.

A different economy also influences the ways in which payments products are brought to market.

Competition between big banks has achieved a nation-wide geographical scope.

A new landscape provides significant opportunities for more innovative use of payments initiatives.
Elizabeth Rowe, Group Director of Mercator Advisory Group's Banking Advisory Services and one of the principal analysts of this report, comments, "With Bank of America and Wells Fargo now truly national banks and the top four banks holding $7.5 trillion of the banking industry's $13.7 trillion in assets (or 55%), there are opposing needs informing the emerging trends in bank marketing. For the largest banks, pummeled by billions in loan losses, there is a need to gather more core deposits and to reenter the retail lending market. For smaller banks, there is a need to protect market share against large banks with their enormous branch and ATM networks. Many of these largest banks are entering new geographical markets with their acquisitions. These banks need to introduce themselves to the millions of households that find themselves customers of a brand new, previously unfamiliar bank brand while the banks themselves struggle to return to profitability."
The report is 30 pages long and contains 17 exhibits
Other recent research from the Retail Banking Advisory Service:
Members of Mercator Advisory Group have access to this report as well as the upcoming research for the year ahead, presentations, analyst access and other membership benefits.
Please visit us online at http://www.mercatoradvisorygroup.com/.
For more information call Mercator Advisory Group's main line: 781-419-1700 or send an email to mailto:info@mercatoradvisorygroup.com
---
Interested In This Report