Branch-Based, Self-Service Banking Channels
Overview
Boston, MA – March 07, 2012 – In new research, Branch-Based, Self-Service Banking Channels, Mercator Advisory Group reviews how some financial institutions are rewriting the rules for branch-based business models, including by introducing disruptive processes and technologies to better serve their customers.

The report offers a landscape view of branch-based self-service banking types, the various services and types within this channel, user profiles, and a case study featuring expanded ATM usage.

"As financial institutions strive to find ways to be more efficient and profitable, they are experimenting with new and innovative ways to leverage their channels more effectively to reach out and engage customers," Ed O'Brien, director of Mercator Advisory Group's Banking Channels Advisory Service comments. 

This report is 22 pages long and has 13 exhibits.
Organizations mentioned in this report include: Apple, Bank of America, Coastal Federal Credit Union, Diebold, Merrill Lynch, Mid-Hudson Valley Credit Union, Nautilus Hyosung, NAB, NCR, TNS Design, University Federal Credit Union, and uGenius.
Members of Mercator Advisory Group have access to these reports as well as the upcoming research for the year ahead, presentations, analyst access, and other membership benefits.
---
One of the exhibits included in this report: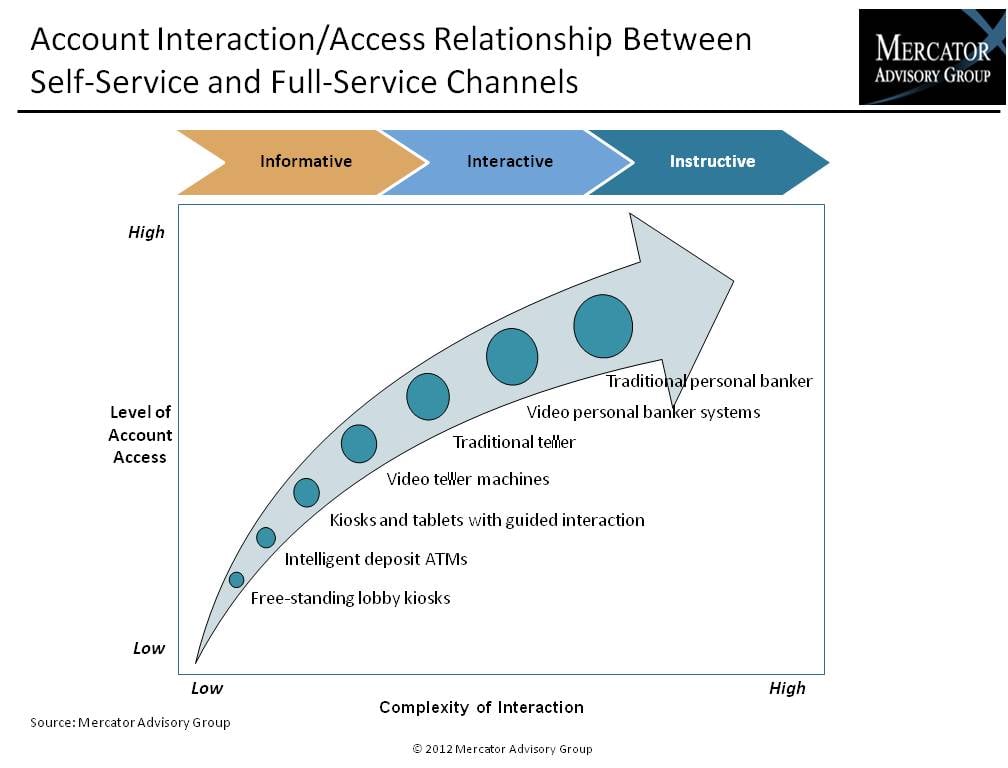 ---
Highlights of this report include:
The cross-channel business models financial institutions are evaluating and the ways in which interaction in this new model will occur
New technologies these institutions are leveraging to expand existing capabilities and provide a more intuitive and user-friendly experience for customers, which may encompass elements of ATMs, financial kiosks, tablets, and remote teller systems
Examples of the most dramatic of these self-service models
The novel approaches and opportunities beyond basic banking that will emerge as institutions look to further expand their channel strategies
Interested In This Report