Branch Banking 2012: All About the Relationship
Author(s):
Karen Augustine
Overview
Fifth report from Mercator Advisory Group's 2012 CustomerMonitor Survey Series probes customer usage of branches, communication methods, and attitudes toward remote banking technologies
Branch banking remains a vital means for financial institutions to forge stronger customer relationships and cross-sell products and services. In today's digital environment, FIs must reinvent the branch experience to make branches more compelling places to visit, and innovations such as new remote teller technologies and videoconferencing are serving to enhance the customer experience. Nearly half of Mercator Advisory Group survey respondents indicated that they would try videoconferencing with a customer service representative or product specialist if no branch representative or specialist were available in person.
Report findings are based Mercator's CustomerMonitor Survey Series. The foundation of the series is data obtained during a national sample of 1,008 online consumer survey responses completed between October 23 and November 2, 2012.
"Branch banking is not going away, but it does need to evolve. The branch, even in the digital age, will remain a key sales tool for the financial institution to develop and expand customer relationships," states Karen Augustine, manager of CustomerMonitor Survey Series at Mercator Advisory Group and the author of the report.
---
One of the exhibits included in this report: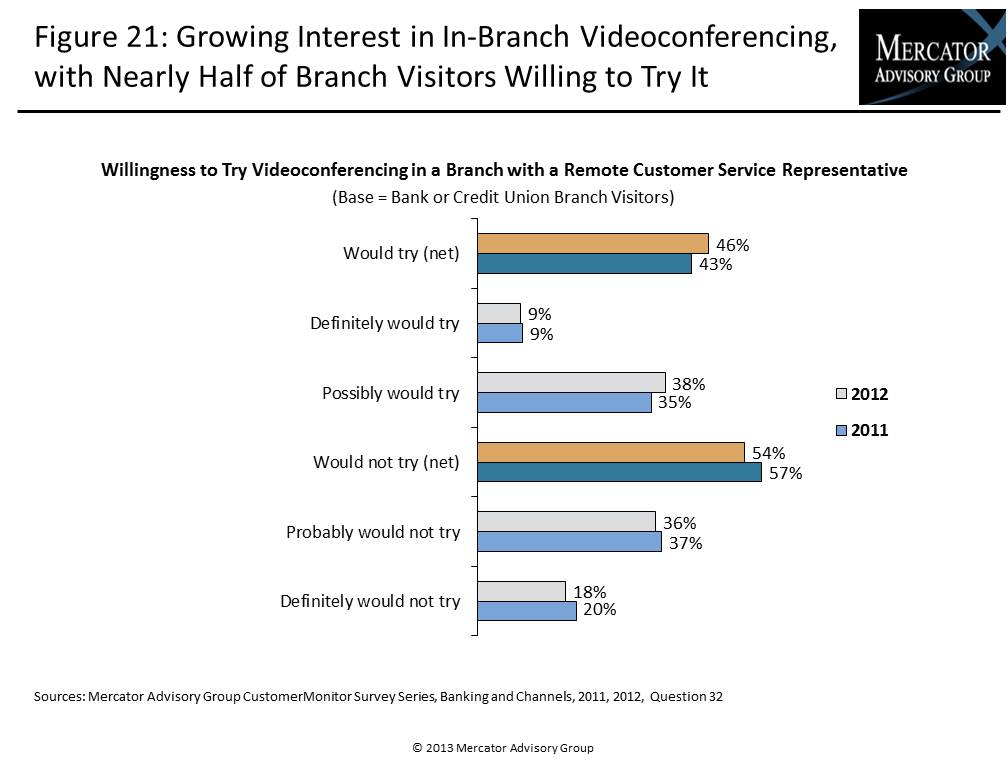 ---
Year-over-year trending of the number/types of financial institutions used by consumers, the institutions they consider their primary FI, usage of the primary institution's credit card, and types of financial advisors

Shifts in communication methods with FIs, satisfaction with those methods, and preferred type of branches

Reasons for branch usage, frequency of visits, and interaction with branch staff

Highest-ranking methods of learning about new financial products and services

Trends surrounding the interest in-branch videoconferencing
The report is 52 pages long and contains 21 exhibits
Members of Mercator Advisory Group CustomerMonitor Survey Series Service have access to this report as well as the upcoming research for the year ahead, presentations, analyst access and other membership benefits.
Interested In This Report