Overview
Banking long entailed a visit to a solid, citadel-like building that served as a repository of assets and financial knowledge. But we've become accustomed to a more open design in branch offices. Form is following function. Banking is becoming a more open and fluid undertaking, and FIs are adopting variations of the "banking as a platform" (BaaP) strategy to position themselves for the rapid pace of change underway. BaaP represents a profound change in the speed of access to technology innovation in products, services, and interaction channels across the values stack. Modularity and standardization of service delivery component outputs empowers financial institutions to configure themselves and their solution sets to fit the individual needs of consumers, according to Mercator Advisory Group's latest research report, Banking as a Platform: API Technology Presents Opportunity to Financial Institutions.
This Mercator Advisory Group research report examines the use of the platform approach for financial institutions to achieve flexibility and agility in leveraging the expansive change being driven by technological innovation across industries. Banking as a platform enables FIs to better balance continued reliance and tried and true processing systems with nimble adoption of technologically enabled avenues of direct interaction with consumers.
"Financial institutions need to ensure they are more responsive to the variety of consumer needs and demands for service levels to sustain their role interacting directly with customers in the financial services ecosystem," commented author of the report Joseph Walent, Associate Director, Customer Interaction Advisory Service. "Standardization of products coupled with pervasive technologies have created an environment of interoperability promoting use of a variety of component financial services to render an individualized solutions. This model is not only possible but is increasingly the expectation of consumers having experienced personalization in other industries. Banking as a platform provides a path for FIs to adjust gradually to a collaborative economy and retain their primary position in their customers' financial lives."
This research report contains 18 pages and 4 exhibits.
Companies mentioned in this report include: Citibank, D3 Banking. Envestnet | Yodlee FIS, Intuit Jack Henry, JPMorgan Chase, Personetics, Temenos, Wells Fargo, Xero, and Zelle.
---
One of the exhibits included in this report: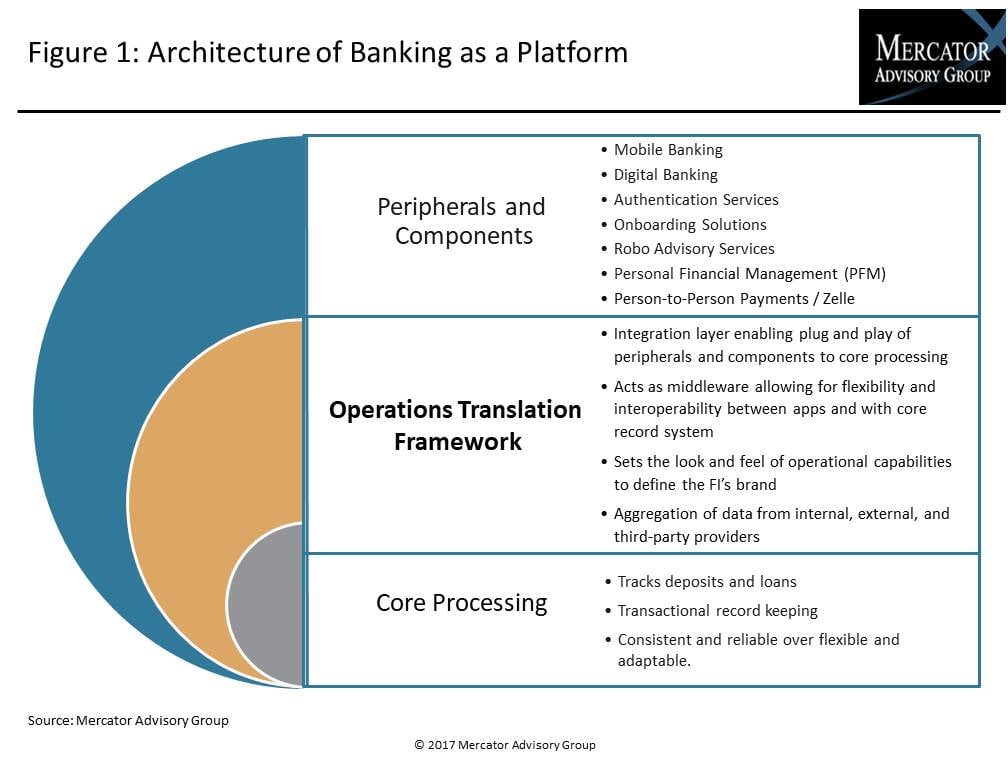 ---
Highlights of the research note include:

Review of the banking service delivery models afforded to financial institutions employing banking as a platform, or BaaP
Examination of the paths available for financial institutions employing a BaaP strategy
What large, midsized, and community FIs may expect in terms of support and benefits
How componentization of banking process delivers individualized service
The role and impact of regulatory agencies and market pressures across global markets
A sample of potential opportunities that BaaP introduces for FIs and their fintech partners
Interested In This Report
Related content
Financial technology company FIS brought in merchant acquiring titan Worldpay in 2019 for $43 billion, including nearly $8 billion in debt. That move came during a spree of megadea...
Gen Z, defined as those born in 1997 or after, must be a top priority for all merchants and their service providers. Merchants need to build relationships with Gen Zers now in orde...
The 2022 holiday sales season looks to be a strong one for merchants, but they'll need help from service providers to survive and thrive into 2023 and beyond.