Overview
Mobile payment adoption in Asia has very little in common with the U.S. experience. Consumers in China and India use their mobile payment apps to manage many aspects of their lives, not just money movement, and they are fiercely loyal to their chosen apps. The providers of the apps didn't start off as financial solutions providers but built a following in other businesses such as e-commerce and social networks. In China alone, this approach has created a mobile payments market of more than $5.5 trillion, 50 times greater than U.S. volumes. Payment apps Alipay, Paytm, and WeChat Pay achieved their extraordinary growth by becoming entirely central to their customers' lives. A new research report from Mercator Advisory Group, Asian Mobile Payment Apps as a Way of Life: A Look at Alipay, Paytm, and WeChat Pay, describes how these dominant mobile app systems developed and grew to their current size, and the examples they represent for Western mobile payment apps.

"The mobile payment app environment in Asia is a completely different ecosystem from Western countries, where mobile payments industry is more fragmented, has greater competition, and contains many long-standing legacy players. Surely, Asian mobile network providers are a force to be reckoned with around the globe and can provide some lessons for U.S. and European mobile payment app providers," commented Sarah Grotta, Director, Debit and Alternative Products Advisory Service at Mercator Advisory Group, and co-author of this report.

"Alipay and WeChat Pay have built all-encompassing mobile commerce platforms that do just about anything related to commerce and social interaction in China. There is nothing like either of them in the West, which has a multiplicity of overlapping mobile payment providers and financial institutions. However, Western mobile platforms can certainly emulate some of the Asian mobile integrated features and solutions that have created a user base of over 1 billion people," said Raymond Pucci, Associate Director, Research Services at Mercator Advisory Group, and co-author of this report.

This report is 19 pages long and has 6 exhibits.
---
One of the exhibits included in this report: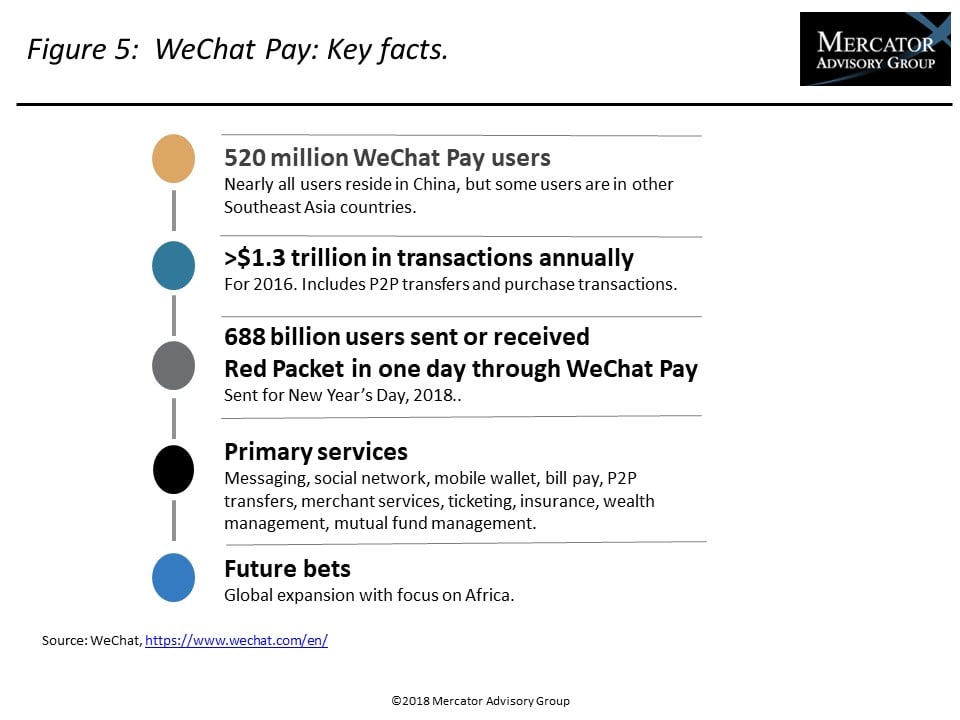 ---
 Highlights of this research report include:  
Evolution of payments in China and India
A look at Alipay, Paytm, and WeChat Pay
How integrated app solutions build user adoption
Global partnerships that strengthen mobile apps
What this means for the U.S. payment providers
Learn More About This Report & Javelin