Overview
Boston, MA
January 2007
AML Update: Moving Toward The "Total Mix"
NEW RESEARCH REPORT BY MERCATOR ADVISORY GROUP
Mercator Advisory Group is pleased to announce that its update on anti-money laundering (AML) activity as it affects FI's and vendors is now available. This report examines the growing FI-wide approach to AML as well as trends in compliance enforcement, suspicious activity reporting for 2006 and AML vendor consolidation. The report focuses in particular on the markets for and vendors of AML technologies addressing the small and mid-market banking segments.
AML vendors are divided into three groups: AML Specialists, Product Line Extenders and PE-backed firms. AML Specialists are pureplay AML providers, generally small companies who have focused exclusively on serving the financial crimes market. Product Line Extenders are vendors taking core expertise and applying it to the AML marketplace. Private Equity backed firms have used funding ability to acquire both AML components and marketshare.
A dozen vendors are described in the report including ACI, Actimize, Choicepoint, Experian, Fortent, LexisNexis, Mantas, Metavante, NetEconomy, Norkom Technologies, SAS and Wolters Kluwer Financial Services.
Highlights of the report include:


Growth outlook for AML solution vendors is mixed. At the high end of the market, spending is expected to be in the 5% range over the next three years. AML spending will increase sharply in the small FI segment with most vendors forecasting double digit annual growth exceeding 20% through 2010.


ALM activity and enforcement actions include over $22M in enforcement fines in 2006 and continued rapid rise in SAR filings of over 21%.


The AML market is in an active vendor consolidation phase.


A description of some dozen players in the AML vendor community and how they position their services is included.


A look ahead at changes to come including evolution of AML system functions, the regulatory environment and the impact of vendor consolidation trends on FI's and the vendors themselves.
"The continued double digit growth of SAR filings is evidence of AML initiatives are increasingly successful. Driven by strong regulatory pressure, AML technologies are getting ready for broader deployment within the FI and are already moving more deeply into the small FI segment," comments George Peabody, Research Manager of Mercator Advisory Group's Debit Advisory Service. "The market is in an active consolidation phase with implementations for FI customers, investors and, of course, the companies themselves."
One of the 8 Exhibits included in this report.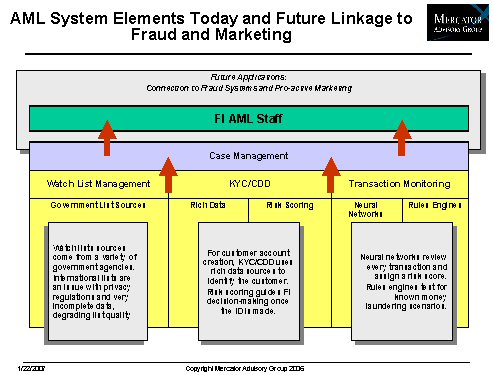 This report is 34 pages long and contains 8 exhibits and 5 tables.
Members of Mercator Advisory Group have access to this report as well as the upcoming research for the year ahead, presentations, analyst access, and other membership benefits. Please visit us online at www.mercatoradvisorygroup.com/.
For more information call Mercator Advisory Group's main line: 781-419-1700 or send email to info@mercatoradvisortygroup.com.
---
Interested In This Report
Related content
With investment capital tighter in 2023, there's less interest in untested, unproven fintech startups and more of an emphasis on coming out of the chute with products that are read...
Wallet-based digital ID will create a wedge between universal wallets and payment apps, as embedded finance product offerings converge on feature parity over time.
For more than a decade, fintech startups and products have captured outsized attention and investment. In many ways, these companies have set the agenda for driving consumer expect...