The ACH Network: The Bedrock of Alternative Payments
Author(s):
Mercator Research
Overview
Boston, MA
October 2008
The ACH Network: The Bedrock of Alternative Payments
NEW RESEARCH REPORT BY MERCATOR ADVISORY GROUP
The ACH Network began as a low volume network transmitting large recurring transactions between well-established entities; however changes in rules and business models have brought about significant changes in the nature and volume of ACH activity.
More than 18 billion ACH payments were made in 2007, representing a 12.6% increase from the total number of transactions generated in 2006. Much of the growth in ACH volume can be attributed to fundamental changes in payment methods used by consumers and businesses with the network transforming into a high volume platform of relatively low-value, non-recurring transactions. These transactions are originated from a rapidly expanding number of merchants, aggregators, corporations, and financial institutions.
Alternative payment providers such as Google Checkout, Bill Me Later and of course PayPal leverage the ACH to provide consumers and merchants with a secure and efficient means of payment and in doing so are experiencing phenomenal growth.
Non-financial institutions have been beating the banking industry to the punch of developing unique and cost efficient payment solutions, especially in the e-commerce space. Ironically, alternative payment providers have succeeded using the banking industry's own infrastructure to capture interchange-like revenues.
However, a new solution has emerged from the National Automated Clearing House Association (NACHA) that could level the playing field for banks to compete against alternative payment providers and push the ACH network in a new direction. NACHA's recently released Secure Vault Payments (SVP), an e-commerce payment solution not only enables customers to move payments from their direct deposit accounts to merchants and service providers, but transactions occur with real-time authentication and authorization from the consumer's bank Web site. The push method ensures merchants and service providers that payments are being made with "good funds" thus reducing concerns about fraud, chargebacks, and non-sufficient funds.
Although signature debit and credit card usage online has yet to be hugely impacted by alternative payment solutions, in many cases, non-traditional payment providers offer significantly enhanced value propositions including discounts, sales and loyalty tools, and the ability for merchants to cross sell on non-competitive merchant Web sites. These value added services create significant competitive pressures for traditional payment types and are giving alternative payment methods solid traction.
Brent Watters, Senior Analyst of Mercator Advisory Group's Prepaid Advisory Service and principal analyst on the report, comments, "As alternative payment methods continue to evolve and more players step into the space, the use of traditional payment cards for online transactions will continue to decrease. It is foreseeable that merchants will increasingly promote alternative payments and consumers will become more accepting of new payment types. Mercator believes that in the next five years (2014) 35% of payments made online will be in the form of alternative payments, including prepaid cards, new forms of credit and programs leveraging the ACH."
Highlights from this report include:
The ACH continues to show solid growth and transaction volume will continue to escalate as more alternative payment schemes leverage the network.
The ACH is moving to push versus pull method of payment thus creating direct competition for EFT networks that have been eager to develop a PIN-less debit solution for online transactions.
The ACH's eCheck services continue to fuel the networks' transaction volume and penetrate markets currently targeted by debit and credit cards.
NACHA's Secure Vault Payment (SVP) creates an opportunity for banks to compete in online alternative payments.
Within the next five years (2014), 35% of payments made online will come in the form of alternative payments, including prepaid cards, new forms of credit and programs leveraging the ACH.
One of the 10 Exhibits included in this report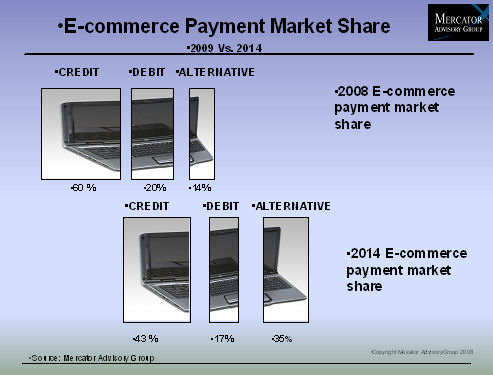 This report contains 33 pages and 10 exhibits.
Members of Mercator Advisory Group have access to this report as well as the upcoming research for the year ahead, presentations, analyst access and other membership benefits.
Please visit us online at http://www.mercatoradvisorygroup.com/.
For more information call Mercator Advisory Group's main line: 781-419-1700 or send email to info@mercatoradvisorygroup.com.
---
Interested In This Report