Overview
Boston, MA
March 2004
A2A and Remittance Services Open the Door for New Competition in the Internet P2P Payments Market
NEW RESEARCH REPORT BY MERCATOR ADVISORY GROUP

E-commerce has created new markets that have triggered the demand for new methods of payment tailored to the unique needs posed by the infrastructure.  For example, the Online Auction market emerged as one area that facilitated the use of online person-to-person (P2P) payments.  In addition to addressing emerging needs of new markets, these services created additional transaction volumes and derive revenues for operators of payment card networks, ACH networks and EFT networks as they typically leverage traditional payment ssyetms.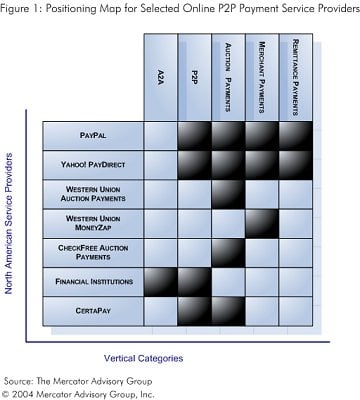 Evren Bayri, Director of Mercator Advisory Group's Credit Advisory Service and author of the report comments, "person-to-person payment services have evolved from pure P2P payments -- such as the case when you pay your gardener for his services -- to services that address specific market segments such as auction payments, merchant payment, remittances, and account-to-account money transfers.  PayPal has been the market leader historically and now other service providers either better target these segments or position themselves in areas where there is less competition."
The new Mercator Advisory Group report examines online P2P payment service in the U.S. identifies a list of service providers; explains the service offerings and the processes behind the transactions; provides a positioning map of companies; defines vertical market segments including auction payments, merchant payments, remittance payments and account-to-account money transfers; and, examines pricing models comparing the cost of transfering money using these services. 
This report contains 29 pages and 18 exhibits.
Members of Mercator Advisory Group have access to these reports as well as the upcoming research for the year ahead, presentations, analyst access and other membership benefits. Please visit us online at www.mercatoradvisorygroup.com.
For more information call Mercator Advisory Group's main line: 508-845-5400 or send email to info@mercatoradvisorygroup.com.
---
Interested In This Report
Related content
The cobranded card market is a way to generate loyalty, scale your portfolio, and service the next generation of cardholders.
The Credit Card Data Book is a two-part annual publication that covers the internal and external factors affecting the U.S. credit card market. The first part focuses on environmen...
The U.S. credit market continued its path toward stabilization in 2022 but faced several hurdles, including rising interest rates, strained household budgets, and a highly competit...