Overview
Boston, MA
September 2007
4th Annual Network Branded Prepaid Market Assessment
Measuring the Phenomenal Growth of the Open Prepaid Industry
NEW RESEARCH REPORT BY MERCATOR ADVISORY GROUP
This report is the first of three reports that provides a thorough analysis of the growth and development of the Prepaid Industry.  It benchmarks the spending, growth, and market dynamics for all Network Branded Prepaid Solutions in 12 Categories and 33 Market Segments.  This report is unique because it clearly defines what is being counted (the 33 market segments) and because these measurements have been conducted since 2003 - delivering to Mercator Advisory Group members the only consistent data set that measures the growth and dynamics of the prepaid industry for four years.
The report finds that:
The total load for all 33 Prepaid Segments in 2006 (Open & Closed) was $197.94 Billion, $33.02 Billion more than in 2005, an increase of 20.02%

Network branded solutions had $26.75 Billion loaded in 2006, an increase of 82.5%.

Network branded gift cards grew 121% and now represent a $3 Billion market.

Network branded cards are being adopted at an incredible pace by state and federal government agencies to replace checks - for example, state unemployment grew by 159% while court ordered payments grew 153%.

The introduction of Restricted Acceptance Networks opens up a huge market opportunity that very few suppliers have come to fully appreciate.

Business continues to embrace Open Prepaid Cards for??Payroll ($11.3B - 79%).?? Benefits ($600 Million - 9%).  FSA/HSA ($1.5B - 52%), Employee & Partner Incentives ($2.1B - 91%), and Consumer Incentives ($1.5B - 484%).
Tim Sloane, Director of the Debit Service for Mercator Advisory Group and the author of the report indicates that these growth rates must be analyzed carefully: "Each of the 33 markets analyzed have a unique market environment.  Some are growing through the creation of new markets (such HSA Cards) while others are stealing market share from checks or closed loop prepaid cards. Understanding the dynamics of each specific segment is critical to business strategy and implementation."
This report is the first of three in the annual benchmark series on prepaid markets.  The other reports are focused on the Closed Prepaid Markets and Forecasts for all segments.  Mercator's industry leading coverage of prepaid card markets is also expanding and a series of reports focused on specific markets and opportunities will be following with continuous coverage throughout the coming year.
One of the 14 Exhibits included in this report.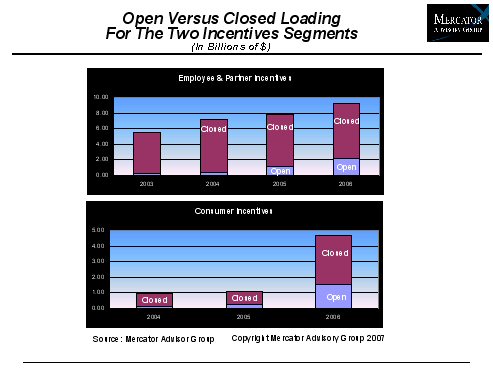 ??
The report is 31 pages long and contains 14 exhibits.
Members of Mercator Advisory Group have access to these reports as well as the upcoming research for the year ahead, presentations, analyst access and other membership benefits.  Please visit us online at www.mercatoradvisorygroup.com.
For more information, please call Mercator Advisory Group's main line: 781-419-1700 or send email to info@mercatoradvisorygroup.com.
Mercator's Corporate Mailing Address is: 1432 Main Street, Waltham, MA 02451.
---
Interested In This Report
Related content
Unused funds on prepaid products, such as gift cards, create liabilities for issuing organizations as use grows. The increasing use of such products highlights the opportunities fo...
The Prepaid Card Data Book ties together the most important metrics for the industry. Mercator Advisory Group's assessment of the prepaid card market covers market estimates for th...
This report covers Mercator Advisory Group research and expectations in the commercial prepaid market. Highlights include trends for both open-loop and closed-loop products.