2023 Identity Fraud Study: The Butterfly Effect
Report Details: 47 pages, 32 graphics
Overview
Over the 20 years Javelin Strategy & Research has been producing its landmark Identity Fraud Study, much has changed, including the emergence of an entire industry devoted to various methodologies for detecting, preventing, and reducing identity fraud. What hasn't changed is criminals' tenacity in seeking victims not just of traditional identity fraud but also identity fraud scams, which Javelin began tracking as a standalone category in 2020, providing a deeper, more granular view of identity fraud in the United States.
This year's report, titled "The Butterfly Effect" is an appropriate descriptor of the current landscape in identity fraud trends: a series of events, however minimal, that create a chain reaction influencing multiple outcomes. Consumer advocates, on an increasing scale, have made a significant impact on identity fraud victim rights that continue to lower annual losses for victims of identity fraud scams and facilitate an evolving national conversation about the fair and ethical treatment of such victims.
Traditional identity fraud losses amounted to $20 billion (USD) in 2022, a decrease of nearly 15% from the previous study period. Interestingly, as dollar losses fell, the number of U.S. adult victims (15.4 million) remained nearly identical to that of the previous study period (15.3 million U.S. adults). The overall stability in loss figures is a testament to the steady efforts of the financial services industry to keep criminals at bay. There is, of course, much work to be done to dramatically reduce the impact of identity fraud across the industry.
Javelin identified significant changes in identity fraud scam losses and victim counts in 2022. There was a reduction of $5 billion in annual losses (down 17%) and two million fewer victims (down 6%). Javelin credits this to consumer outreach by financial services and consumer-advocacy groups. Identity fraud resulting from scam losses still outpaced traditional identity fraud, with $23 billion (USD) in total annual cost in 2022.
For the first time in 20 years, Javelin decided to collect impact statements from identity fraud victims asking each one to voluntarily and anonymously express in a few words how identity fraud affected their personal and financial lives. Asking this question was a watershed (and tear-inducing) decision that provided so many responses that there is no adequate way to display them all. The following examples are being shared with Javelin readers to simply encourage a more humanistic regard for the victims of identity fraud. The butterfly effect from reading some of these testimonials should be a kinder and more empathetic attitude toward identity fraud victims.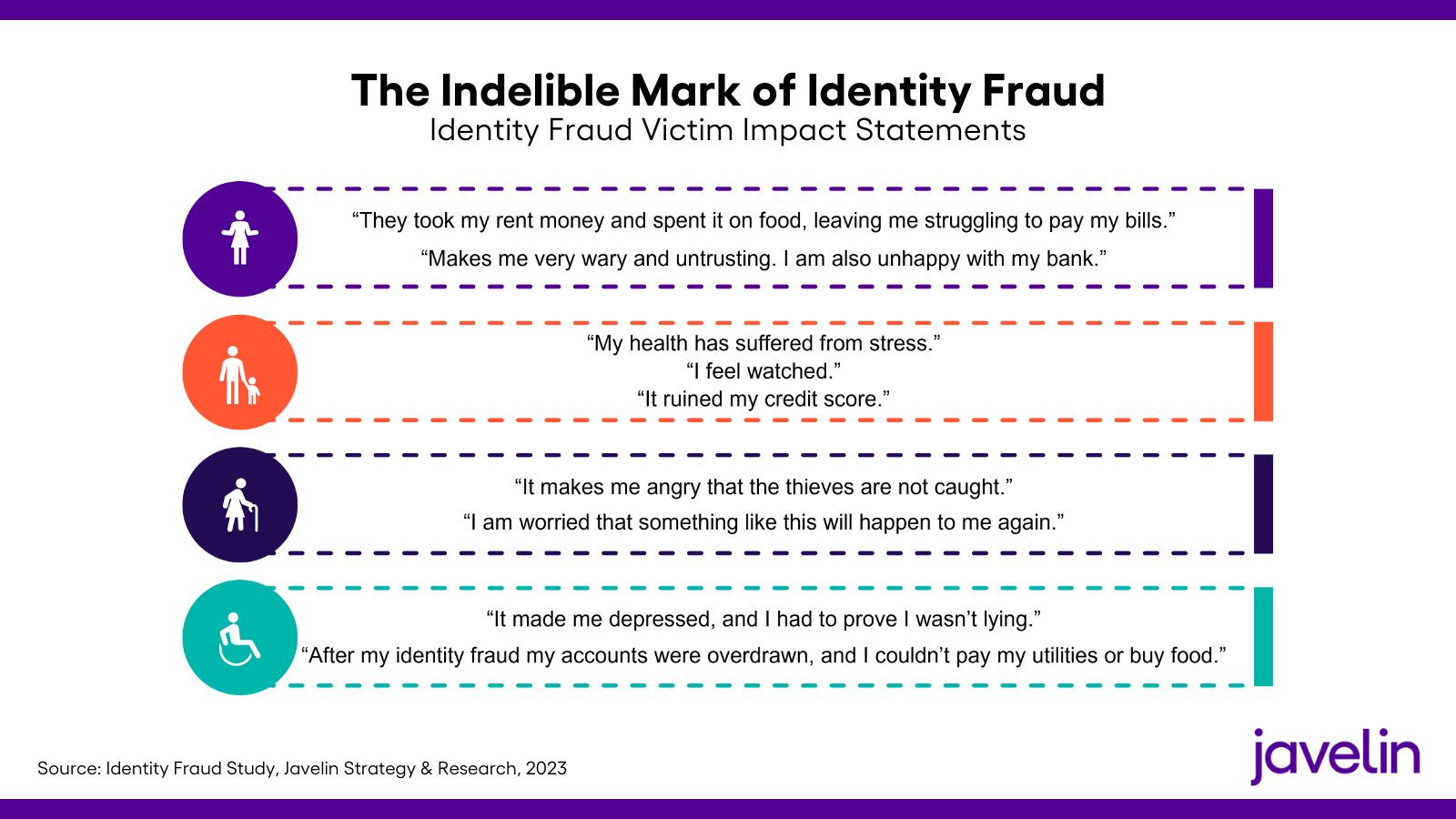 Javelin's Identity Fraud Study is an essential guide to understanding the financial impact and emotional devastation caused by identity fraud in the United States. The study continues to be the standard-bearer in bringing context to identity fraud.
2023 Identity Fraud Study Sponsors
Javelin Strategy & Research's 2023 Identity Fraud Study provides a comprehensive analysis of fraud trends in the context of a changing technological and payments landscape to inform consumers, financial institutions, and businesses about the most effective means of controlling identity fraud.

The study began in 2003 and serves as the nation's longest-running analysis of identity fraud, with more than 100,000 consumers surveyed. This study is independently produced by Javelin and made possible with support from the following sponsors:
Methodology
Survey Data Collection
This ID fraud survey was conducted online among 5,000 U.S. adults over the age of 18; this sample is representative of the U.S. census demographics distribution. To preserve the independence and objectivity of this annual report, the sponsors of this project were not involved in the tabulation, analysis, or reporting of final results.
Comparing Research Findings Across Organizations: Please Anticipate Natural Variances in Key Findings Javelin cautions readers to understand the context behind increases and decreases in key findings as they apply to the annual Identity Fraud Report, especially when comparing your own organization's experiences or comparing research outcomes from other companies or agencies. It is impossible to compare identity fraud key findings across multiple sources and expect to see a universal alignment. There is a reason key findings never line up across organizations due to how data is collected. Sample sizes (the number of consumers) also vary a great deal. Example: The FTC Sentinel Network collects data directly from consumers and some government agencies. Consumers are typically reporting one or more incidents, so occurrences, categorization, and loss figures become endemic to the FTC but may not line up with other research performed by similar organizations. Comparatively, Javelin specifically surveys 5,000 U.S. adults, then qualifies each respondent by categorizing each reported loss. Javelin then extrapolates population information from the U.S. Census Bureau, which then permits a best-effort estimation of identity fraud impact across the entire U.S. adult population. It is reasonable to see vast differences in the research findings of various agencies and companies. This doesn't mean that there are errors; it simply means that the methodologies and very nature of how consumers are engaged can have very different outcomes.
Interested In This Report