2022 Fraud Experience PaymentsInsights: Payment Fraud - The Consumers' Perspective
Author(s):
Nicholas Bisconti
Overview
Mercator Advisory Group Releases Payments Industry Research: Payment Fraud - The Consumers' Perspective
The Federal Trade Commission (FTC) received 2.2 million fraud reports from consumers in 2020. In 2021, a published report highlighted imposter scams as the most common type of fraud reported to the agency, while online shopping was the second most common fraud category reported by consumers. Mercator Advisory Group's primary data service, Fraud Experience
PaymentsInsights, takes a comprehensive view of United States consumer payment and identity theft related fraud.
Mercator Advisory Group's most recent report, 2022 Fraud Experience PaymentsInsights: Payment Fraud - The Consumers' Perspective, examines payment methods in relation to fraud, the dollar value of fraud incidents, types of fraud experiences, identity theft-related fraud, consumers' experience with resolving fraud cases, as well as consumers' attitudes, not only about fraud but also about the financial institutions they use for banking and bill paying services.
The report is based on the Fraud Experience PaymentsInsights survey administered in January 2022 to a nationally representative sample of 3,611 United States consumers, ages 18 years or older.
"Payment and identity-related fraud prevention can be achieved by building an alliance with consumers and learning from past fraud experiences so that financial institutions and merchants can continue to educate both themselves and their consumers on what patterns to look out for so that they can avoid becoming victims of fraud," says Amy Dunckelmann, VP, Research Operations at Mercator Advisory Group.
This report in slide form is 60 pages long.
One of the exhibits included in this report: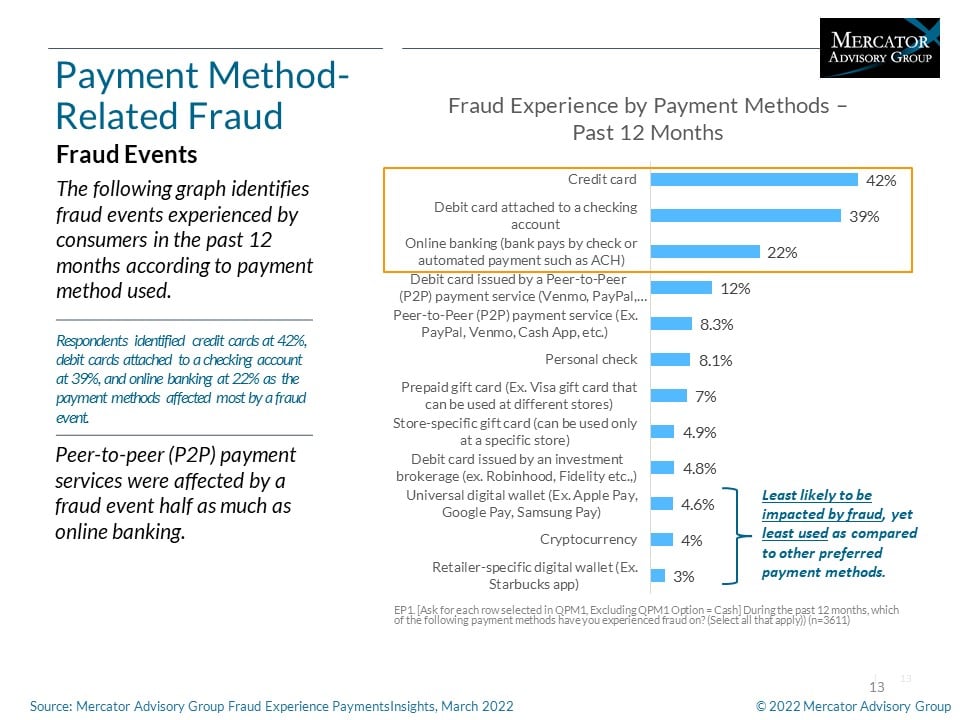 Highlights of this report include:
Payment Method-Related Fraud
Frequency of Fraud Incidents
Dollar Volumes of Fraud Incidents
Types of Fraud Experiences
Consumers' Experiences with Resolving Fraud Cases
Consumer Attitudes about Fraud
Financial Services Relationship - Composition of Respondents
Interested In This Report