2021 North American PaymentsInsights – Buy Now Pay Later
Overview
How is Buy Now, Pay Later Financing Affecting the Consumer Credit Space?
Mercator Advisory Group has released a new primary research report titled 2021 North American PaymentsInsights – Buy Now Pay Later, summarizing the findings from the BNPL and short-term financing sections of the semi-annual North American PaymentsInsights survey of 3,001 U.S-based adults. The report aims to highlight and analyze consumer behaviors, preferences, and motivations as they relate to the rapidly expanding range of point-of-sale financing products. Readers will be presented with a detailed analysis of the impact of demographic characteristics on consumer behaviors and inclinations, general consumer trends, as well as actionable recommendations for industry players.
"The rise of buy now, pay later financing and short-term loans has implications for the consumer credit space as a whole, particularly credit card networks and issuers that have long dominated the industry. With interest rates at record lows, accelerated adoption of online shopping over the past 12 months, and high consumer satisfaction – the conditions have never been better for the reimagining of consumer credit," stated Amy Dunckelmann, Vice President, Research Operations, Mercator Advisory Group.
This report contains 59 slides and 35 exhibits.
---
One of the exhibits included in this report: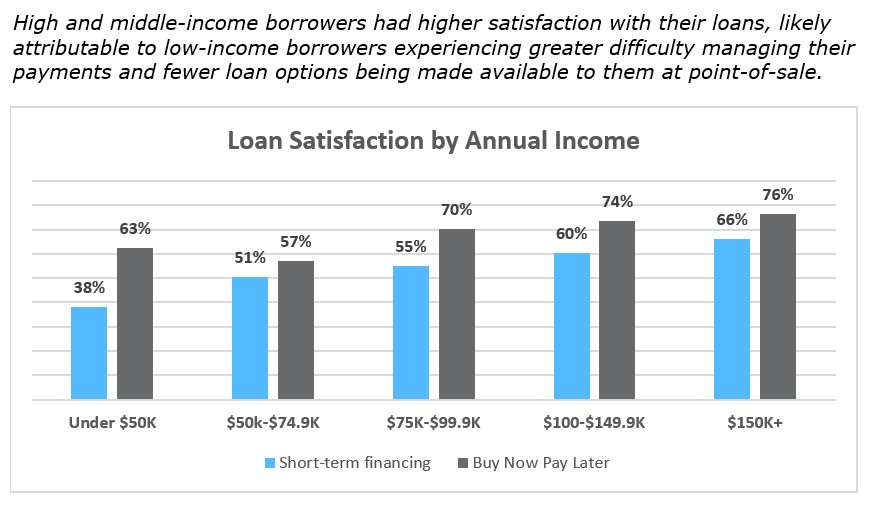 ---
Highlights of the 2021 North American PaymentsInsights – Buy Now Pay Later Report:
Young people and those in the middle-income cohort are particularly drawn to BNPL and short-term financing.
BNPL and short-term financing present themselves as a viable competitors to the credit card industry, especially as many young people are reluctant to use credit cards.
A variety of risks arise with the expansion of this industry, as many consumers may be borrowing beyond their means and regulatory oversight remains significantly lower than that in the traditional consumer credit space.
Consumer satisfaction with BNPL and short-term loans varied significantly across age groups, income lines, and purchase categories.
Interested In This Report