2020 North American PaymentsInsights - Credit Cards: Navigating Rough Waters
Overview
Credit card survey reveals early changes from the pandemic's onset.
Mercator Advisory Group's most recent report documents the changing patterns of U.S. credit cardholders as they grappled with the new realities of the pandemic, and their shifting choices in the use of payment cards. The survey of 3,000 U.S. adults (June 2020) represents a continuation of a series of consumer and business surveys conducted annually by Mercator Advisory Group since 2009.
While credit cards remain the preferred payment card both in-store and online, the number of households reporting they use a general purpose network branded credit card was down in 2020. Non-revolving charge cards and debit cards are the primary beneficiaries when consumers reduce their use of credit cards.
"These survey results are a foreshadowing of changes expected to play out more dramatically in 2021," stated Theodore Iacobuzio, Vice President of Research at Mercator Advisory Group. "Shifts in card usage, and notably credit card rewards, may have major strategic impacts down the road for card issuers."
This report is 58 pages long and contains 34 exhibits.
---
One of the exhibits included in this report: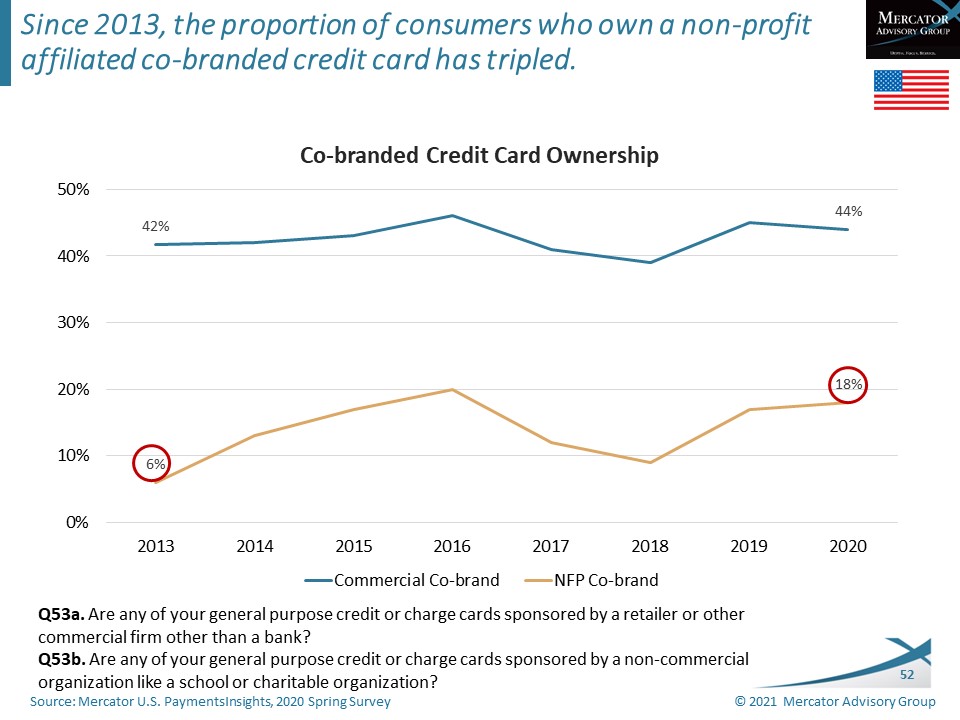 ---
Highlights of this report include:

Credit cards are preferred for the growing volume of e-commerce transactions, and cardholders often designate a specific card for online use.
Cashback rewards, still the leading reward type in terms of cardholder participation, experienced a significant decline in cardholders stated participation and preference. No other reward type yet stands out as a clear beneficiary of this decline. The perceived dollar value of rewards realized through credit card accounts also declined in 2020.
The interest in use of card controls-- smartphone-based apps used to turn a card on or off, limit transaction size, notify cardholders of transactions, and other security features—was down significantly in 2020. Fewer than one in four credit cardholders with a smartphone used such an app.
The use of co-branded cards sponsored by not-for-profit organizations has increased over the last two years, while cards sponsored by commercial entities remained high, but stable.
Learn More About This Report & Javelin