The 2020 Credit Card Data Book: Good Times Roll a Bit Longer
Overview

2019 was a banner year for many credit card issuers, as the stars aligned. Unemployment and inflation were low, interest margins were at a peak, collection results were favorable, and total open accounts grew slightly. And according to Mercator Advisory Group's new report, The 2020 Credit Card Data Book: Good Times Roll a Bit Longer, 2020 will likely be slightly better, and more profitable, assuming the economic tides do not turn.

"Credit card risk is fragile right now. Times have been good, but that "sooner or later" economic shift draws closer every month. Use Mercator's 2020 Credit Card Data Book to see where sensitivities exist," comments Brian Riley, Director, Credit Advisory Service, at Mercator Advisory Group, the author of this research report. "As an example, if there is a sudden shift, warning bells will ring at credit card issuers and they will quickly tighten credit to protect their balance sheets. As that happens, delinquency will start to climb. This ends up as high credit losses and increased non-interest expense." Riley continues: "Right now, infrastructure and credit management are as important as portfolio growth. Risks are higher than ever, and issuers must ensure that their credit management policies and systems are ready to react. Overflow and diversion strategies, champion/challenger testing, and a battle-ready credit management team are the order of the day."

This document contains 29 pages and 20 exhibits.

Companies and other organizations mentioned in this research report include: ACI Worldwide, Bank of America, Chase, Citi, Federal Reserve System, and FICO.
---
One of the exhibits included in this report: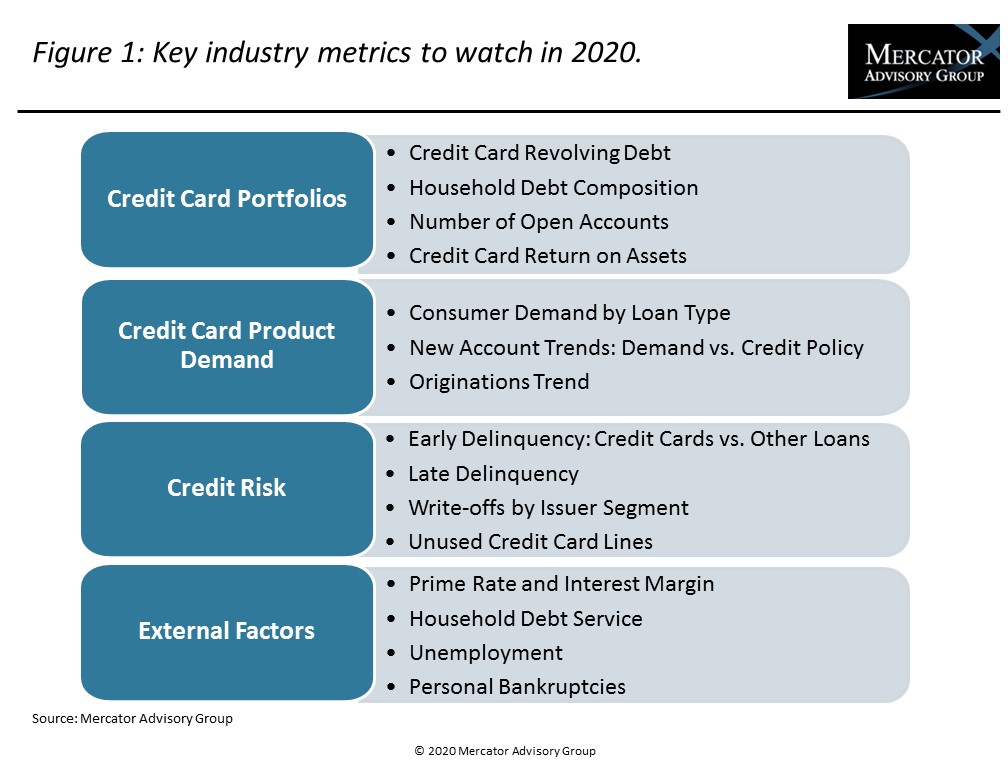 ---
Highlights of the research report include:

Key industry metrics to watch in 2020
Growth in revolving debt
Average credit card debt
Credit card return on assets
Originations and total active accounts
Trillions of dollars in contingent credit card liability
Interest rate margins
Household debt burdens
Interested In This Report
Related content
Private-label credit cards are an essential part of the U.S. card market, but they are a product in slow decline and face several threats, including instant point-of-sale financing...
The cobranded card market is a way to generate loyalty, scale your portfolio, and service the next generation of cardholders.
The Credit Card Data Book is a two-part annual publication that covers the internal and external factors affecting the U.S. credit card market. The first part focuses on environmen...