2019 Canada PaymentsInsights - Debit Cards and P2P Payments: Valuable Solutions
Overview
Mercator Advisory Group's new 2019 Canada PaymentsInsights report, titled Debit Cards and P2P Payments: Valuable Solutions, reveals that the debit cards and person-to-person (P2P) payments both are core components of the payment ecosphere.
This report is based on Mercator Advisory Group's North American PaymentsInsights annual Payments survey. The web-based survey was fielded between July 29 and August 13, 2019 using a Canadian online consumer research panel of adults age 18 and older. The survey of 1,004 Canadian adults focused on payments and was intended to be a random sample of Canadian adults to obtain a broad profile reflective of Canadian households' payment habits and preferences.
"This year is the first time our survey has explored the use of debit cards and P2P payments in Canada. Both play an integral role in the ever-changing payments ecosystem. For many people, debit card is an alternative to credit card. P2P is currently a young person's payment method, but we expect that to change over time," stated the author of the report, Peter Reville, director of Primary Data Services at Mercator Advisory Group, which includes the North American PaymentsInsights series.
Companies mentioned in the survey results shown include: Apple, Facebook,, Google, MoneyGram, PayPal, PopMoney, Square, Venmo, Western Union, and Zelle.
---
One of the exhibits included in this report: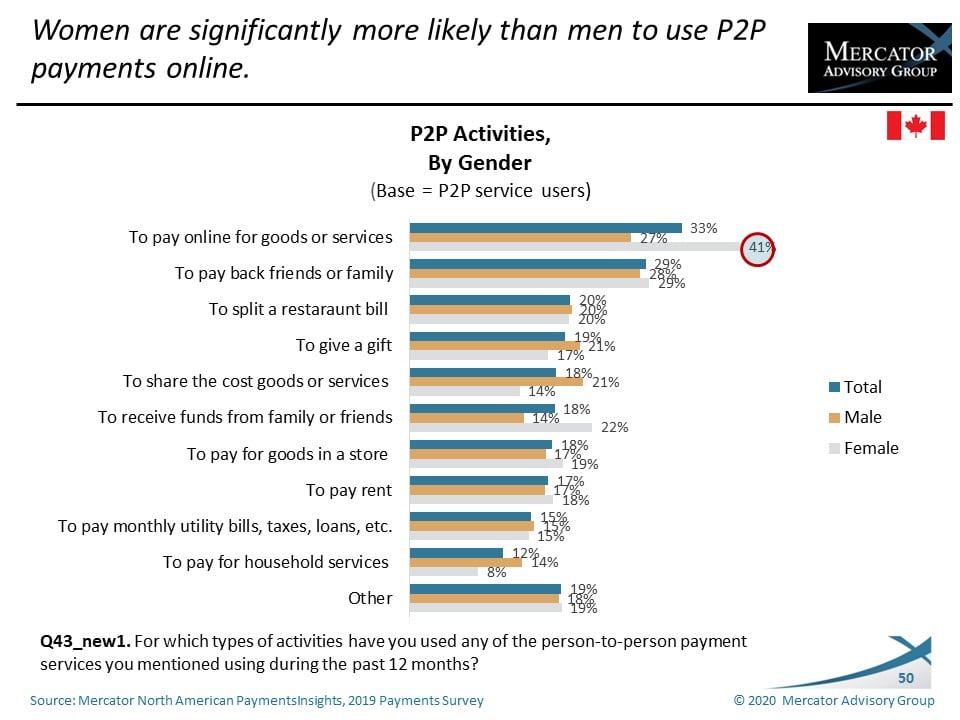 ---
Highlights of this report include:

Current payment card usage in Canada
The use of payment cards online and off line
The incidence of debit card fraud
Debit card rewards
Usage of P2P payment services
P2P payment providers
The types of P2P payments used
P2P payment fraud
Interested In This Report