2018 Consumer Financial Protection Bureau (CFPB) Final Prepaid Rule: Is This Really It?
Overview
A new report titled 2018 Consumer Financial Protection Bureau (CFPB) Final Prepaid Rule: Is This Really It? presents Mercator Advisory Group's summary of and guidance on the final Prepaid Rule published by the Consumer Financial Protection Bureau. Covering the more than 1,890 pages of commentary/regulations of the final Prepaid Rule, the report addresses a number of topics that are critical for compliance, including the definition of prepaid, disclosures, error resolution, and the relationship of prepaid cards and credit cards.
Mercator Advisory Group's report focuses on the near-term concerns for prepaid providers who need to bring their prepaid programs into compliance by April 1, 2019, the date the final Prepaid Rule takes effect. Because of the breadth and depth of the prepaid regulations, the report highlights the areas of disclosures, error resolutions, overdraft, and how marketing and advertising needs to truly represent the product.
This report encourages prepaid program providers to double check everything because even though prepaid program managers have done plenty of work in anticipation of the final Prepaid Rule, in the CFPB's fine tuning of the rule the final version of requirements for disclosure forms is different from that proposed earlier.
"Prepaid card providers got a few wins and a few losses in the CFPB's revision of the Prepaid Rule. Either way it's time to get to work. Although many companies have taken steps toward compliance, there is a lot to review against the new regulation to be sure of compliance, and as always there are a few new twists," commented C. Sue Brown, director of Mercator Advisory Group's Prepaid Advisory Service, author of the report.
This report is 17 pages long and has 3 exhibits.
Companies mentioned include: ClearXchange (Zelle), Dwolla, Facebook, Google, PayPal, Popmoney, Snapcash, and Square.
---
One of the exhibits included in this report: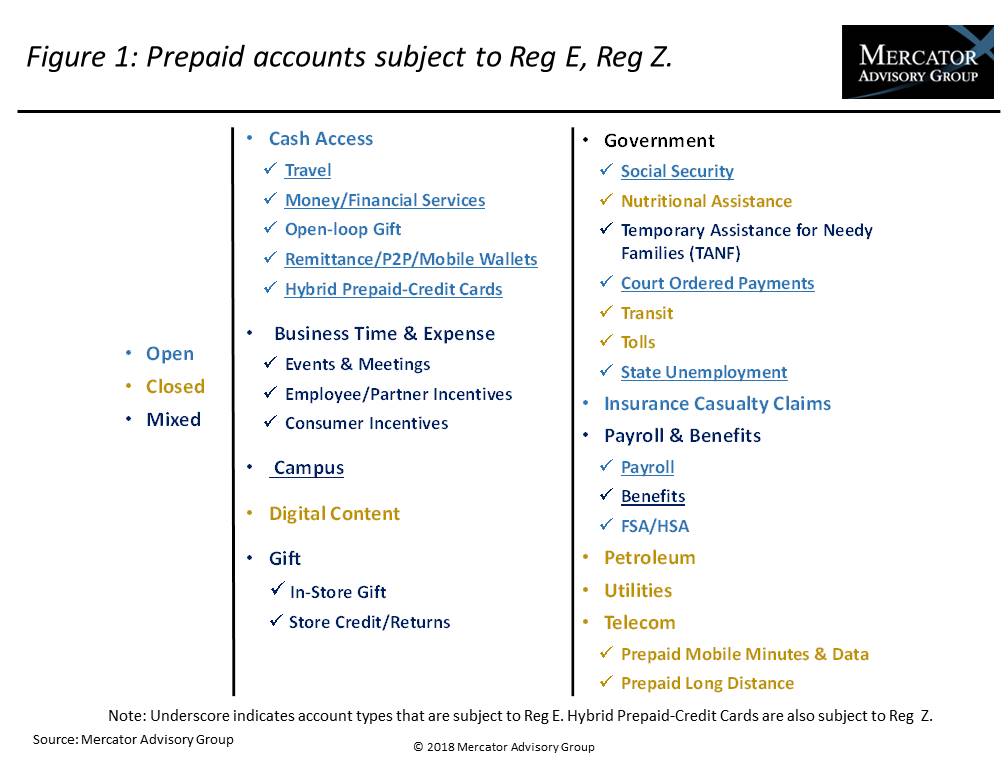 ---
Highlights of the report include:

The Consumer Financial Protection Bureau (CFPB) has released its final Prepaid Rule and given the industry until April 1, 2019 to bring their programs into compliance.
The final rule covers a number of topics including disclosures, error resolution, person-to-person (P2P) transactions, and hybrid prepaid-credit cards.
The final rule includes new types of payments companies under the prepaid umbrella, so any company that stores funds for consumers in a way that can be used at multiple unaffiliated merchants should be ready to offer new disclosures and terms and conditions.
The industry will be able to comply with the rule, but it will need to update any work it has done in anticipation of the rule, especially in regard to marketing and advertising, disclosures, and fee calculations.
Because many prepaid card companies do not offer credit features, their initial concerns will be to make sure disclosures are in compliance and to update their marketing messages. This report is intended as a single document to guide implementation.
Interested In This Report