2018 Annual U.S. Debit Market Data Review
Overview
Mercator Advisory Group's latest research report, 2018 Annual U.S. Debit Market Data Review, presents data showing that the growth of debit transactions was strong in 2017 in the U.S., reversing a lower growth trend observed in 2016. Debit plays a critical role as the payment feature tying consumers to their core banking relationship, so greater debit transaction growth is positive news for issuers.

"Debit card growth resulted in part from consumers turning away from using credit cards for transactions as higher delinquencies and higher interest rates led many to use debit cards instead. Higher costs for everyday items often purchased using a debit card played a role in the growth of the value of debit transactions. Behind the good growth news, debit issuers are contending with near-term concerns including shifting fraud tactics and long term, debit's role in digital channels and faster payment products as they evolve," comments Sarah Grotta, Director, Debit and Alternative Products Advisory Service at Mercator Advisory Group and author of the report.

This report has 20 pages and 13 exhibits.

Companies mentioned in this report include: Accel, Early Warning, FICO, EMVCo, Exxon, GasBuddy, Mastercard, NYCE, Pulse, Shazam, Star, Target, The Clearinghouse and Visa.
---
One of the exhibits included in this report: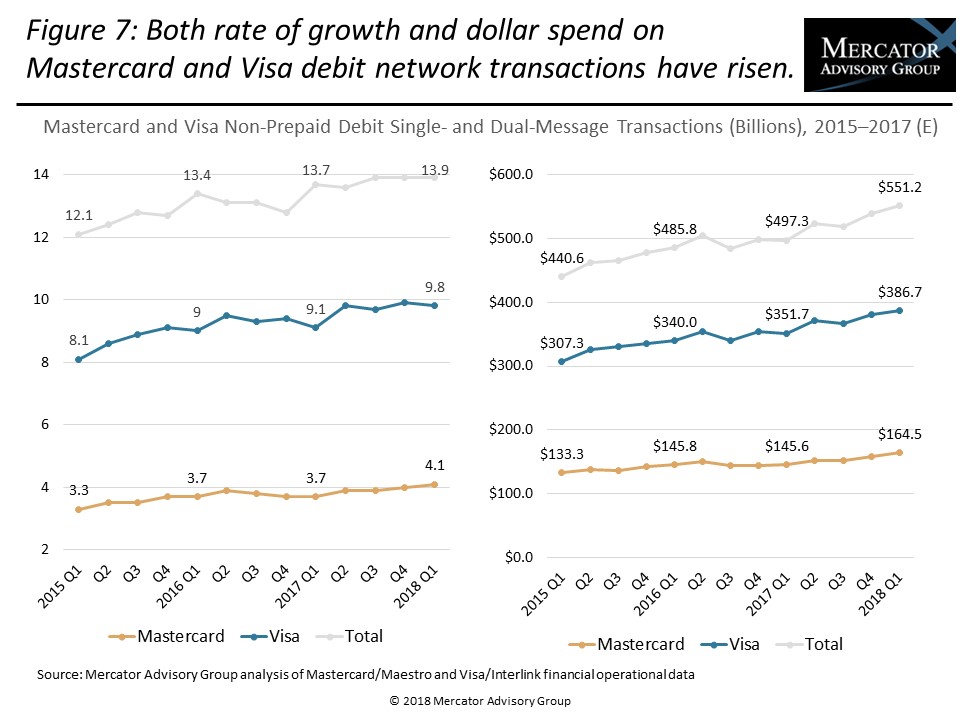 ---
Highlights of the report include:

Debit card's standing in relationship with other payment vehicles in the U.S.
Growth in the number of cards in market
Transaction and transaction value growth
The growth of debit card transactions in comparison to credit cards and what is influencing changes
Discussion of five trends that will impact the debit card market in the near term
Learn More About This Report & Javelin