Overview
Mercator Advisory Group's latest research report from the Customer Interaction Advisory Service, 2017 ATM Market Benchmark Report, presents benchmark statistics on the ATM market in the United States and globally. It also presents evidence for the changing role of the ATM as banks and credit unions continue consolidating their branch offices, broadening their ATM footprint, and turning to independent ATM deployers to manage and operate the devices. The report discusses enhanced capabilities that are making the ATM a central channel that will shape the way consumers will navigate an increasingly personalized banking experience in the years to come. ATMs remain essential for access to cash through mobile cash access pre-staging of transactions and for online banks, which have no branch infrastructure.
"Financial institutions are seeking to expand engagement with customers while reducing costs associated with physical points of presence. As they continue to consolidate branches, the ATM is being enabled to taking on more of the workload that previously required direct interactions with a teller or bank representative," commented Joseph Walent, Associate Director of Mercator's Customer Interaction Advisory Service, author of the report.
This research report contains 18 pages and 9 exhibits.
---
One of the exhibits included in this report: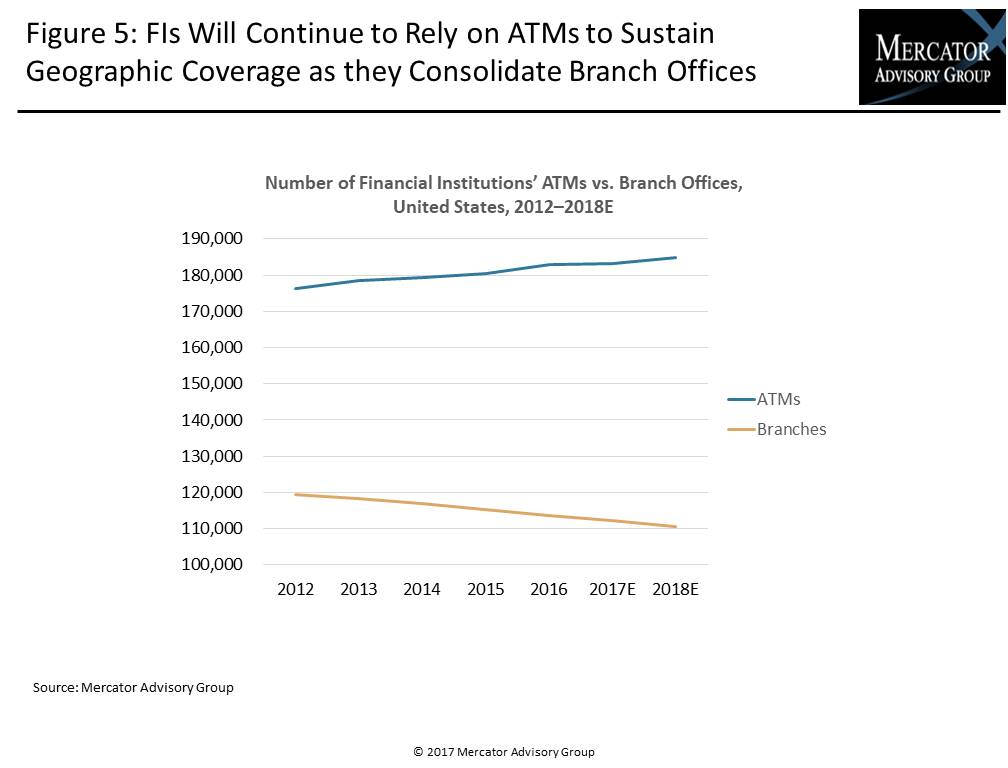 ---
Highlights of the research report include:

ATM concentration in select countries, 2016
Number of ATMs owned and operated by leading financial institutions in the U.S., 2014–2016
Number of branches of leading financial institution ATM owner-operators in the U.S., 2014–2017E
Leading independent ATM operators in the U.S.: FI/ISO/IAD Solution Providers, 2014–2017E
Factors key in bank selection according to Mercator Advisory Group's CustomerMonitor Survey Series banking channels survey
The shift U.S. consumer preference as to how they access and where they cash
Interested In This Report