2015 U.K. Debit Rewards Landscape Review
Author(s):
Tristan Hugo-Webb
Overview
The future is uncertain for the U.K. market for current accounts (called "checking accounts" in the U.S.) The U.K. government's call for greater competition led to the emergence of new retail banking service providers aiming to challenge established players for market share. In theory, this unprecedented competition should induce banks to offer improved debit rewards to make their accounts attractive to consumers. However, that potential is likely to be undercut by recent interchange regulations passed by European Union Parliament that will cap interchange fees on debit card transactions, which threatens the financial sustainability of debit reward programs.
Mercator Advisory Group's research report, 2015 U.K. Debit Rewards Landscape Review, is designed to serve as a benchmark for the U.K. debit rewards market by surveying the leading current account providers and the reward programs attached to each account. This review will be updated annually to highlight any changes in the market, especially in the years ahead as the EU interchange caps come into full effect. The report provides insight on the size and scope of the U.K. current account and debit rewards market and differences from the U.S. market. The report also postulates future developments like the growth of merchant funded reward programs and other changes.
"The results of Mercator Advisory Group's 2014 U.S. debit rewards market review as well as our CustomerMonitor Survey Series annual survey of U.S. consumers habits and preferences with regard to payment cards clearly show that debit rewards have an important role to play not only in increasing spending but also in improving customers' satisfaction with their primary financial institution. For U.K. financial institutions, the years ahead will likely present unprecedented challenges in the form of debit interchange caps and increased retail banking competition but also opportunities to acquire new customers," commented Tristan Hugo-Webb, Associate Director of the Global Payments Advisory Service and the author of the note.
This report contains 26 pages and 12 exhibits.
Companies mentioned in this report include: Lloyds, Barclays, Royal Bank of Scotland, HSBC, Santander, TSB, Banco Sabadell, NatWest, Halifax, Nationwide, Co-Operative Bank, Clydesdale Bank, Ulster Bank, Metro Bank, First Direct, Virgin Money, Post Office, Marks & Spencer, Tesco, Danske Bank, Smile Bank, Cumberland Building Society, Reliance Bank, First Trust Bank, Visa, MasterCard, Cardlytics, UK Insurance Limited, Aviva, Lifestyle and Services Group.
Members of Mercator Advisory Group's Global Payments Advisory Service have access to these reports as well as the upcoming research for the year ahead, presentations, analyst access, and other membership benefits.
---
One of the exhibits included in this report: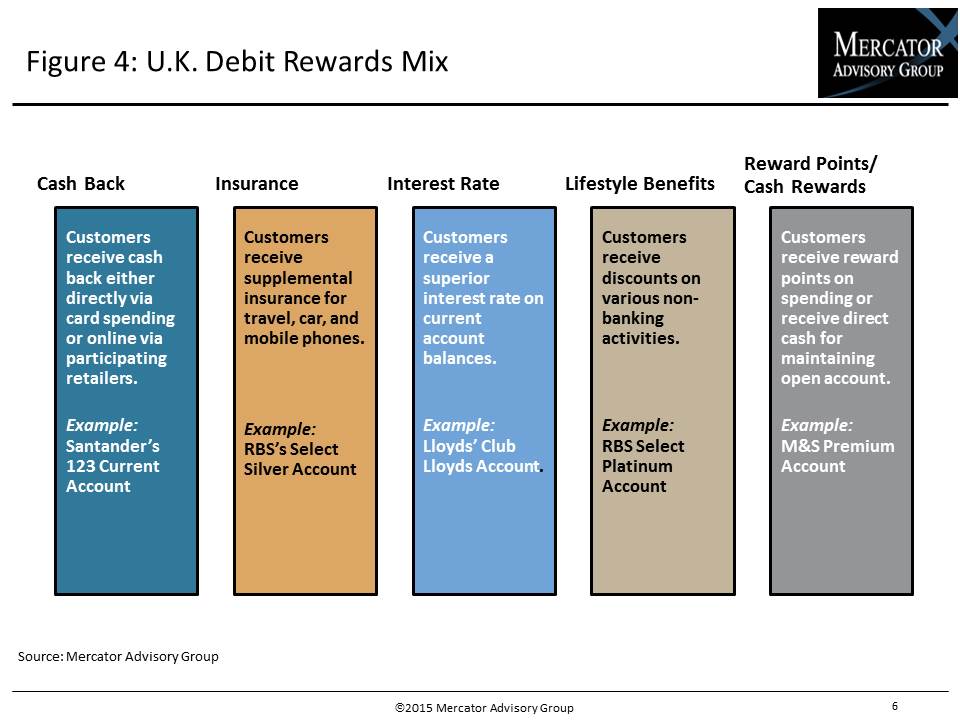 ---
Highlights of the report include:

Statistics regarding the size and structure of the U.K. debit card market and market share of leading U.K. financial institutions.

Commentary on recent regulatory and industry action like the European Union Parliament's interchange cap and U.K. Current Account Switch Service.


An examination of 56 current accounts offered by 23 providers in relation to debit rewards as well further analysis of reward programs broken down by size of financial institution. 
Learn More About This Report & Javelin