2015 European Contactless Card Payments Landscape
Author(s):
Tristan Hugo-Webb
Overview
Hiding in plain sight, contactless payment technology has been around for many years. Its primary use case was in the transit context, where consumers could purchase and reload "smart" or chip cards and tap them against readers as to pay their fares. In London, the city's popular Oyster card is a prominent international examples of contactless payment card. It was not until 2014 that contactless cards emerged outside of the historical transit use case, however.
Mercator Advisory Group's research report, 2015 European Contactless Card Payments Landscape, seeks to provide a better understanding of the European contactless card payment landscape by examining a number of critical factors, including the number of Visa, MasterCard, and American Express branded contactless debit and credit cards available across Europe, the number of contactless-enabled point-of-sale (POS) terminals, and more specifically developments in leading European contactless payment markets like the United Kingdom. In addition, this report considers the implications for the development of European mobile payment systems based on the growing popularity of contactless payment cards.
"Contactless payments have dominated European payments headlines for the better part of a year now and for good reason. A technology that has been sitting in plain sight has finally come good and consumers across Europe (but mainly in a few countries) are increasingly using their newly issued contactless card for more and more of their general spending," comments Tristan Hugo-Webb, Associate Director, Global Payments Advisory Service at Mercator Advisory Group and primary author of the report.
This report contains 23 pages and 10 exhibits.
Companies mentioned in this report include: Visa Europe, MasterCard, American Express, and Cartes Bancaires.
---
One of the exhibits included in this report: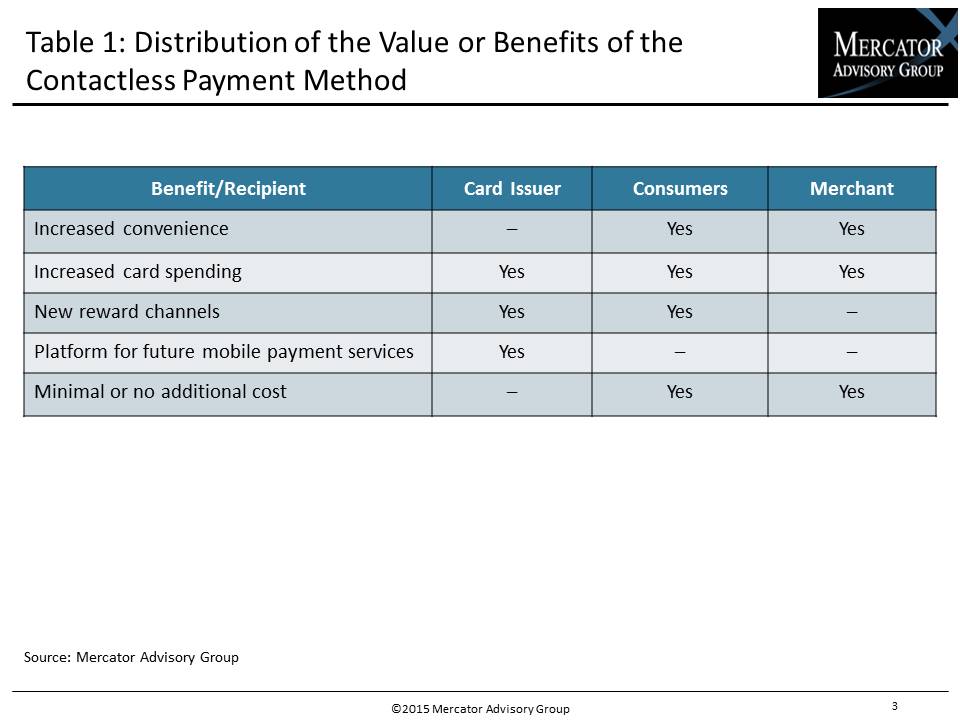 ---
Highlights of the report include:
Overview of contactless payment technology and the different advantages it brings to different sections of the payments value chain

 

Estimates of the number of contactless-enabled debit and credit cards cobranded by Visa, MasterCard, and American Express across Europe between 2011 and 2015

 

Estimates of the number of contactless-enabled POS terminals able to accept at least Visa and MasterCard across Europe between 2011 and 2015
Learn More About This Report & Javelin