2009 - CPS - Issue #4 - Rewards
Author(s):
Mercator Research
Overview
Rewards in a Changing Environment: Still Important (Within Reason)
Report Highlights Consumers' Perceptions of Today's
Ubiquitous Rewards Programs
Boston, MA - October 30, 2009 -- As the financial services industry continues its challenging path through the 2009 recession, press speculation abounds regarding the future of consumer rewards programs. Especially for high visibility credit card rewards, many expect issuers to significantly prune their offerings as a cost control measure as they simultaneously grapple with credit losses, the prospect of less or at least different fee income under UDAP reforms, and declining consumer card usage.
Similarly, retail bankers are struggling with the questions of how and when to implement relationship rewards programs across deposit and loan products in a manner that will attract customers and retain and grow their business. This could be a big investment at a time when expenses are under pressure.
Based on a national sample of 1,012 online consumer survey panel survey responses completed between May 28 and June 4, 2009, the Rewards in a Changing Environment Still Important (Within Reason) report outlines program participation, perceived program value, and perceptions of changes that have occurred in programs over the last year. Special attention is given to credit card and banking reward programs. This is the fourth Primary Consumer Payments report being offered as part of Mercator Advisory Group's newly launched Primary Data Series (PDS). This new offering by Mercator Advisory Group provides access to a library of valuable resources that combine both relevant payments and banking data with experiential analysis focused on today's most critical and strategic issues.
Highlights of the report include the following:
Credit card, supermarket, and airline/hotel/travel programs are the most common rewards program for participation, and are most likely to be designated to be most financially valuable by their participants.

Cash back rewards are the most common program element and the most valued by program participants.

While many reward program users are unsure about their earn rates, supermarket and other retailer programs are often perceived as offering the greatest financial value.

Airline/hotel/travel program participants have the greatest difficulty specifying their value.

T

he features of credit card reward programs are perceived by a majority of their participants as having remained stable over the last year, in spite of turmoil in the card industry.

Reward programs often take a back seat to the accounts' financial terms when consumers evaluate the features of new credit card and retail bank relationships.

"Despite the turmoil in financial services over the last year, many of our survey respondents seem surprisingly calm, seeing relatively few changes in the rewards programs in which they participate. Our consumer market snapshot affirms the majority of consumers find value in rewards programs, and some find a great deal of value if able to extract added value in tight times," Ken Paterson, VP for Research Operations at Mercator Advisory Group and the primary author of the report comments. "On the other hand, important segments indicate they are unmotivated to participate in programs, or are unlikely to switch accounts for rewards alone. Rewards program participants are the ultimate in self-selecting consumer segments."
One of the 15 Exhibits included in this report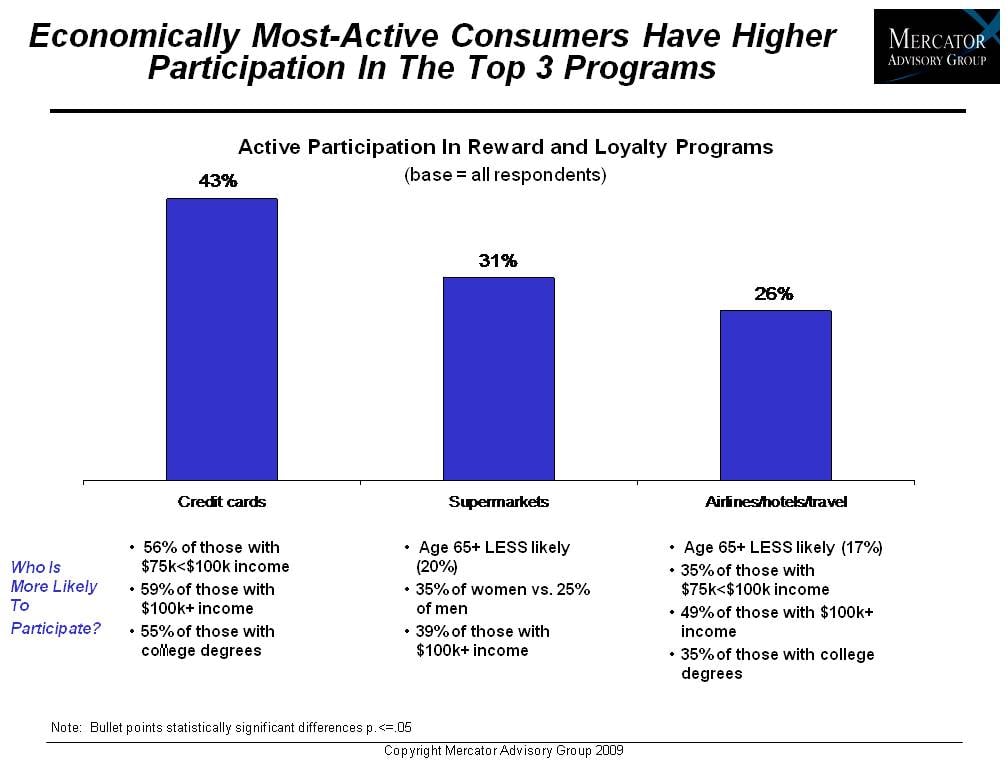 This report is 37 pages long and contains 15 exhibits
Access to the PDS library is offered as a subscription-based membership, separate of Mercator's Advisory Services (Debit, Credit, Prepaid, International, Banking, Emerging Tech.) because it is composed of large national sample surveys, a compilation of primary data (Cross Tabs), analysis (summaries of the data set) and companion power points. This collection of cost-effective primary data and analysis can be leveraged to validate research initiatives and business strategies, refine operations and fulfill objectives.
For more information about this report and Mercator's Primary Data Series, call Mercator Advisory Group's main line: 781-419-1700 or send email to info@mercatoradvisorygroup.com.
Mercator Advisory Group is the leading independent research and advisory services firm exclusively focused on the payments and banking industries. We deliver pragmatic and timely research and advice designed to help our clients uncover the most lucrative opportunities to maximize revenue growth and contain costs. Our clients range from the world's largest payment issuers, acquirers, processors, merchants and associations to leading technology providers and investors.
---
Interested In This Report