14th Annual U.S. Closed-Loop Prepaid Cards Market Forecasts, 2017–2020
Overview
The report titled 14th Annual U.S. Prepaid Cards Market Forecasts, 2017–2020 provides an analysis of the growth and development of the prepaid cards industry through 2020. The report examines load, growth, and market dynamics in the United States across all prepaid segments.
Mercator Advisory Group's forecast report identifies key segments that will continue to decline over the next few years as well as those that should see growth. The economy, politics, and consumer behavior will all influence which segments grow and which decline.
The economy will likely determine which way spending goes in segments like events and meetings, incentives, and gift cards.
Political considerations likely will lead to swings in the size of segments. Federal budget statements point to declines in the Nutrition Assistance segment. As government agencies seek to eliminate cash and reduce headcount, loads for prepaid tolls likely will grow. Tax policy and infrastructure spending may affect the transit segment.
Shifts in consumer behavior seem to have led to a reduction in the use of prepaid cards for digital music and other content. At the same time, more consumers seem to be using prepaid cards for mobile minutes and data. While the data is too discrete to be certain, it seems these trends may be related.
"The fundamental business proposition of prepaid cards as a valuable payments tool continues to be strong. Nonetheless, prepaid providers should be evaluating their businesses and looking for ways to diversify, "C. Sue Brown, director of Mercator Advisory Group's Prepaid Advisory Service, and author of the report, comments.
---
One of the exhibits included in this report: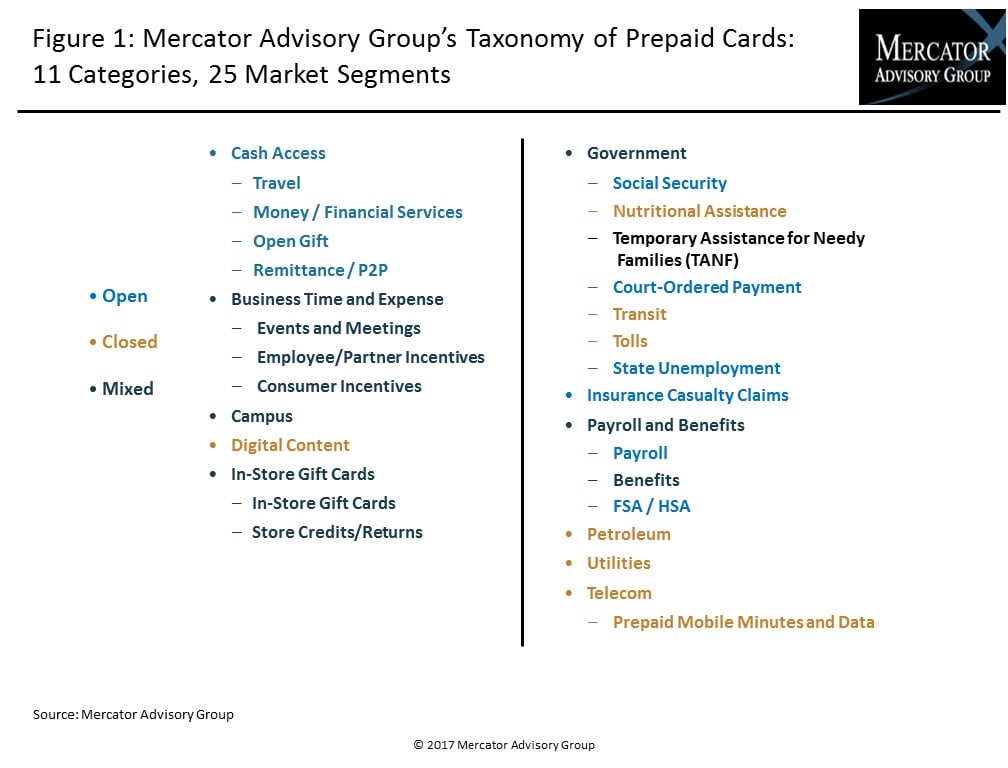 ---
Highlights of the report include:

Mercator Advisory Group forecasts that closed-loop prepaid loads in the United States will grow at a 2% compound annual growth rate (CAGR) through 2020, reaching a total of $346 billion.
The fastest-growing segments in 2016 were Utilities, Prepaid Mobile Minutes and Data, and Consumer Incentives.
The Nutrition Assistance segment fell by 3% and will likely see increased declines through 2020, as federal budgets call for further reductions in spending as evidenced by a reduction in unemployment and food assistance program applications since the beginning of this administration.
Digital Content loads continued to decline for a second year, though some of the loss may be due to a shift in loads to the Prepaid Mobile Minutes and Data segment.
Tolls and Transit loads will be influenced by infrastructure spend and gas prices.
The Prepaid Long Distance segment under Telecom category has been eliminated from tracking for this benchmark report due to declining loads and lack of momentum.
Interested In This Report