Underbanked and Unbanked Americans Prefer Alternative Financial Products and "High-Touch" Too
Javelin Strategy & Research Study Examines over 71 million Underbanked and Unbanked Consumers' Financial Preferences and Behaviors
San Francisco, CA, June 4, 2014:  The underbanked and unbanked population is large and diverse, totaling over 71 million Americans. Alternative financial providers are stepping up to provide products and services especially tailored to meet the needs of this increasingly influential group. Today, Javelin Strategy & Research released Empowering Underbanked Consumers in the Mobile Era report, which analyzes the financial behaviors and preferences of this highly mobile, younger group of consumers, examines their preferences for banking interactions, and provides recommendations for attracting underbanked and unbanked consumers.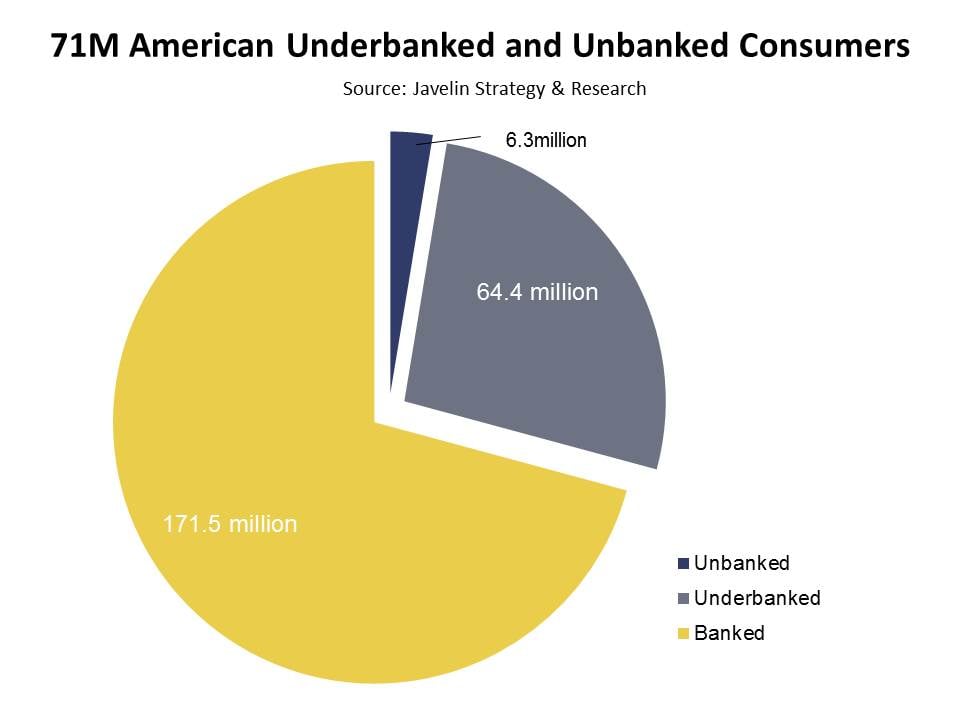 The terms "underbanked" and "unbanked" may have a negative connotation that no longer easily applies. Underbanked consumers represent a group of younger consumers who are shifting to alternative financial providers and are opting out of traditional mainstream financial services. They prefer to self-select better-positioned products. A strong third-party system has risen to provide financial services to this increasingly influential and growing group of consumers.
"In the past, there were no true alternatives to mainstream financial services, but that is no longer the case today." said Mary Monahan, Executive Vice President and Research Director, Mobile at Javelin Strategy & Research. "Prepaid accounts come with mobile access, bill pay, cash withdrawals, person-to-person transfers, alerts, and even mobile deposit. To become a customer of an alternative provider, an underbanked customer can pull a prepaid card off a rack at a store and load it at the cash register, and then it is open and ready to conduct purchases,"
Underbanked rely heavily on digital interactions for their financial transactions, yet they also appreciate "high-touch." Over 40% of underbanked consumers demonstrate a preference for face-to-face interactions. Their preference for "high-touch" varies considerably by the type of financial activity such as monitoring balances, transferring funds, bill pay and other financial activities.
Learn More: Empowering Underbanked Consumers in the Mobile Era: Identifying Bank Needs and Ranking Top Prepaid Providers
Related Javelin Research
About Javelin Strategy & Research
Javelin Strategy & Research, a Greenwich Associates LLC company, provides strategic insights into customer transactions, increasing sustainable profits for financial institutions, government, payments companies, merchants and other technology providers. Javelin's independent insights result from a uniquely rigorous three-dimensional research process that assesses customers, providers, and the transactions ecosystem.
Media Contact
Nancy Ozawa
Marketing Communications
(925) 219-0116
marketing@javelinstrategy.com
www.javelinstrategy.com/research
Media Contact
Sarah Keller
sarah.keller@javelinstrategy.com