Javelin Strategy & Research Releases Point of Sale (POS) Forecast Report
Analyst Firm Finds Mobile the Undeniable Game Changer to the POS Environment
San Francisco, CA, April 4, 2013 – At 93% of total U.S. retail dollar volume, the point of sale (POS) retail market towers above the online market and will continue to do so for years to come. But the growing popularity of thedigital realm has fundamentally altered the nature of the POS, as brick-and-mortar retailers have had to embrace elements of mobile and online channels in order to remain competitive. Today, Javelin Strategy & Research releases the firm's annual POS 2013-2018 Forecast, which evaluates the actual and forecast changes in the retail POS market, tracking payments mix data and identifying key drivers of market change.
Mobile POS Proximity Payments Will Increase 11-Fold
(percent of payment volume)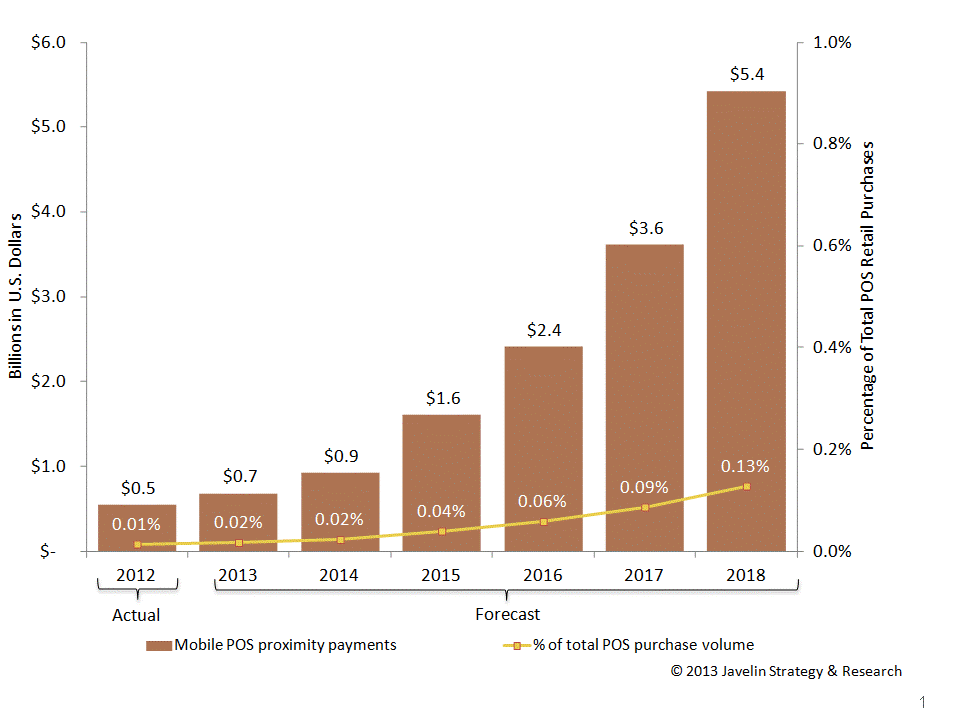 Although mobile POS proximity payments made up just 0.01% of total retail POS volume in 2012, mobile devices (i.e., smartphones and tablets) have forever altered the in-store shopping experience, acting as both a payment option and a channel for purchasing. Over the next six years, an industry-wide push for mobile technology will help propel mobile payments to astonishing growth and will allow mobile POS proximity payments to reach $5.4 billion by 2018.
"The retail POS market is evolving at a remarkable rate with the increased popularity of the e-commerce and mobile payments markets," said Aleia Van Dyke, Industry Analyst at Javelin Strategy & Research. "Today's consumers are demanding more digitized payment options to enhanc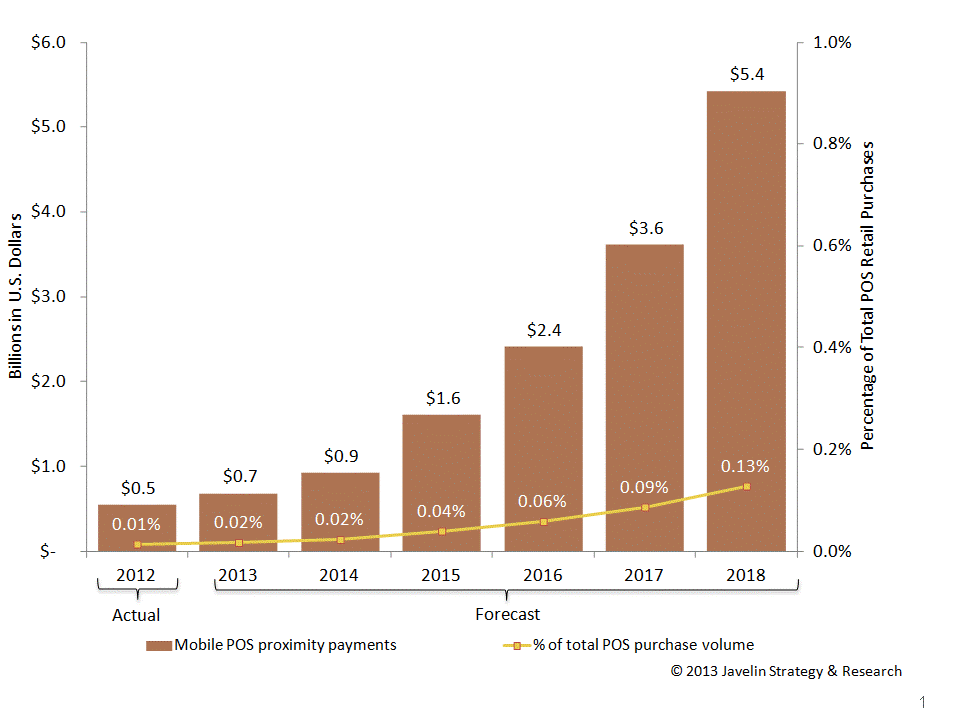 e their in-store shopping experience. The advanced features of non-traditional payment options like mobile and prepaid cards have encouraged adoption with today's tech-savvy shoppers."
Javelin Strategy & Research's 2013 Retail POS Forecast: Mobile and Prepaid Opens New POSsibilities report evaluates the major trends for domestic retail POS payments transactions and how traditional non-card payment options will fare as card-based payments vehicles continue to grow in popularity. It examines prepaid cards, gift cards, cash, checks, credit cards, debit cards, and mobile POS proximity payments. It is based on two online surveys of more than 6,000 consumers. The report contains 33 pages and 15 graphs.
Selected Statistics:
Retail POS purchases totaled $3.98 trillion in 2012 and is expected to reach $4.2T in 2018
Mobile payments will have the highest compound annual growth rate over all other forms of payments methods over next five years.
Prepaid card volume at the POS will surpass that of gift card by 2015.
Debit cards have overtaken cash to become the preferred payment option for Gen Y consumers.
About Javelin Strategy & Research
Javelin Strategy & Research, a division of Greenwich Associates, provides strategic insights into customer transactions, increasing sustainable profits for financial institutions, government, payments companies, merchants and other technology providers. Javelin's independent insights result from a uniquely rigorous three-dimensional research process that assesses customers, providers, and the transactions ecosystem.
Media Contact
Nancy Ozawa
marketing@javelinstrategy.com
www.javelinstrategy.com/research
Media Contact
Tejas Puranik
Tejas.Puranik@javelinstrategy.com