False-Positive Card Declines Push Consumers to Abandon Issuers and Merchants
JAVELIN Assess Discusses Impact of False-Positive in the U.S.
San Francisco, CA, August 27, 2015: Fraud remains a serious danger in the U.S., but transactions wrongly declined due to suspected fraud — known as a "false positive" — may represent just as big a threat. Unfortunately for issuers, a false-positive decline can seriously erode customer loyalty and pushes many consumers to abandon the issuer or merchant connected with the erroneous decline. Today, JAVELIN released, Future-Proofing Card Authorization, which analyzes the prevalence of false-positive in the U.S and explore technological solutions — particularly EMV and mobile — that can help improve the relationship between consumers and the issuer or merchant. Today's card authorization rules and strategies cast a wide net to stop fraudsters, but false-positive declines are detrimental and costly in their own right. Javelin estimates that 15% of all cardholders have had at least one transaction incorrectly declined in the past year, representing an annual decline amount of almost $118 billion. Nearly 4 in 10 (39%) declined cardholders report that they abandoned their card after being falsely declined.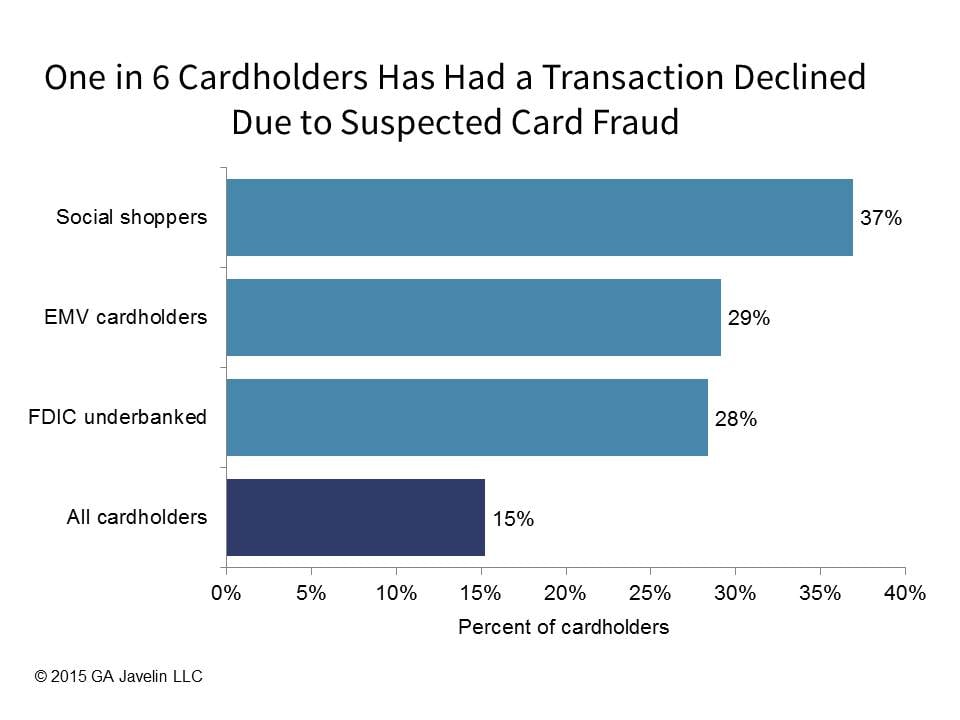 "Issuers must invest in high-quality authorization solutions and strategies to improve card authorization practices. Failing to live up to cardholder standards may encourage customers to, at best, decrease their card usage or, at worst, to stop their use of the card entirely," said Al Pascual, Director of Fraud & Security, at JAVELIN. "Cardholders expect authorization perfection from their issuers and will not stand for fraud or false positives."
Card issuers face a sticky situation: Employ lax card authorization strategies and risk losing revenue to fraud, or use strict authorization rules and risk losing legitimate revenue. Both options have the potential to alienate their customer base, as no consumer wants to deal with either fraud or falsely denied transactions. Fortunately, new technology such as EMV and mobile can help improve card authorization practices and reduce false-positive rates.
The report, Future-Proofing Card Authorization, includes a survey of 3,200 U.S. adults. In addition, it includes a market sizing of false-positive transactions derived by our Javelin analysts.
Related JAVELIN Research
About JAVELIN
JAVELIN, a Greenwich Associates LLC company, provides strategic insights into customer transactions, increasing sustainable profits for financial institutions, government, payments companies, merchants and other technology providers. Javelin's independent insights result from a uniquely rigorous three-dimensional research process that assesses customers, providers, and the transactions ecosystem.
Media Contact
Nancy Ozawa
Marketing Communications
(925) 219-0116
marketing@javelinstrategy.com
www.javelinstrategy.com/research
Twitter: @JavelinStrategy
Media Contact
Sarah Keller
sarah.keller@javelinstrategy.com