E-commerce volume will reach $708 billion in sales in 2021
Social media is a critical driver in the rise of e-commerce by transforming the shopping experience by the introduction of "browsing" or "casual shopping."
San Francisco, CA, November 8, 2017:  E-commerce represents a dual opportunity; first of physical store sales conversion to digital channels and second IoT (Internet of Things) marketplace, where connected devices will use digital channels to make purchases on behalf of their owners. 
Consumers (ages 18-44) who shop across both mobile and online channels are the power users of e-commerce. More than 6 in 10 consumers ages 18-44 have made a mobile purchase in the past 90 days, in comparison with 1 in 3 or fewer consumers 45+. Adoption of e-commerce is high across all consumer age groups; however, this broad adoption is largely restricted to online shopping in which PCs and laptops are used.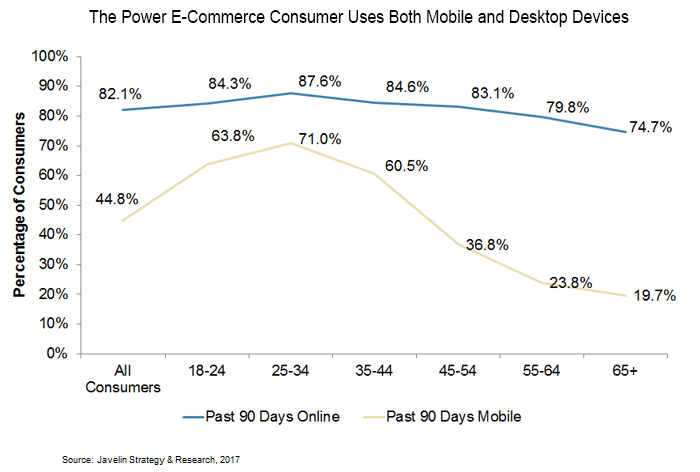 "FIs have a unique opportunity to build consumer trust in e-commerce as a "remote" shopping channel," said
Michael Moeser
, Director of Payments at Javelin Strategy & Research. "For people to allow IoT devices to make purchases on their behalf, FIs can play a bigger role by working with payments networks and IoT providers to offer different payment options." 
Related Research by Javelin Strategy & Research


###
About Javelin Strategy & Research
Javelin Strategy & Research, a Greenwich Associates LLC company, is a research-based advisory firm that helps its clients to make better-informed business decisions in a digital financial world. Our analysts offer unbiased, actionable insights and unearth opportunities that help financial institutions, government entities, payment companies, merchants, and other technology providers sustainably increase profits.

Joan Weber
203.625.4354
marketing@javelinstrategy.com
www.javelinstrategy.com
Twitter: @JavelinStrategy
Media Contact
Sarah Keller
sarah.keller@javelinstrategy.com