Digital Account Opening Still Has A Long Road to Reality
Javelin Explores Opportunities to Open Bank Accounts in One Channel and One Session
San Francisco, CA, February 23, 2017: Over half of all successful applications for most bank products used online and mobile channels at some point during the application process. Yet these digital channels are still flawed, with few applicants enjoying a start-to-finish process in the online or mobile (smartphones and tablets) channels. With the heightened risk of abandonment every time an applicant switches channels, financial institutions need to work towards an integrated, satisfying, multichannel experience.
Today, Javelin Strategy & Research released Digital Account Opening Fails to Deliver a Single-Channel Experience, which found that digital channels are essential for successful account opening. Over 2 out of 3 successful applicants used online and mobile channels for some stage of the application process to open a credit card application and 60% used these channels to open checking accounts. Account volumes will likely grow as financial institutions expand the menu of accounts that can be opened in digital channels.
But digital applications are currently failing to deliver a single-channel experience, especially mobile account opening. About 34% of successful applicants opened and completed the application process online, while the other 66% turned to another channel at some point. Mobile netted only 8% of successful applications with a start-to-finish process.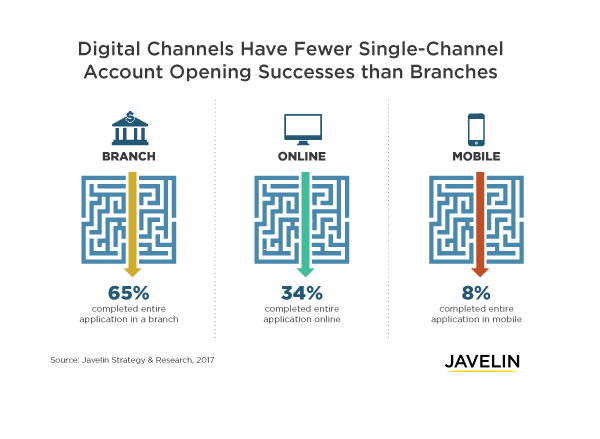 "No banker would find it acceptable to tell a prospective customer who walked into a branch, 'I'm sorry, but you must drive to a branch across town to open the account you want.' Yet that is effectively the message consumers get when they seek to open accounts in digital channels but learn that they're unavailable or that the process is too complicated to be completed in a satisfying manner," said Mark Schwanhausser, Director of Omnichannel Financial Services, Javelin Strategy & Research.
The report, Digital Account Opening Fails to Deliver a Single-Channel Experience, explores the five key stages of application opening, as well as strategies for financial institutions to reduce risk of application abandonment and increase onboarding efforts.
Related JAVELIN Research
About Javelin Strategy & Research
Javelin is a research-based advisory firm that advises its clients to make smarter business decisions in a digital financial world. Our analysts offer unbiased, actionable insights and unearth opportunities that help financial institutions, government entities, payment companies, merchants, and other technology providers sustainably increase profit
Media Contact
Sarah Keller
sarah.keller@javelinstrategy.com