Digital account opening is an overlooked opportunity in small business banking
Only six of the top 30 banks offer digital account opening for business checking accounts
San Francisco, CA, September 6, 2017
:  As small business owners become accustomed to more personalized and contextual digital experiences, demand for more streamlined digital and omnichannel capabilities will become the norm. The new Javelin Strategy & Research report,
Digital Account Opening in Small Business Banking
finds that most banks are severely lagging in small business digital account opening. In fact, only six of the top 30 banks serving business customers offer some form of digital checking account application today, and already those banks hold 30% of U.S. small business deposits. 
Small business owners are busy. They simply do not have time in their workday to reevaluate their banking relationships, let alone a couple of hours to sit down with a relationship manager. When such a discussion does become a priority and a decision is made to switch or expand an existing relationship, business owners often have few channel options beyond time-consuming phone calls and branch visits.
"Small business account opening presents a tremendous opportunity for banks to demonstrate their omnichannel competence," said
Jacob Jegher
, SVP, Banking and Head of Strategy at Javelin Strategy & Research. "Bankers should strive for a process that allows for seamless transition between channels, and uses the strengths of each channel to cross-sell and onboard customers into engagement-building digital services."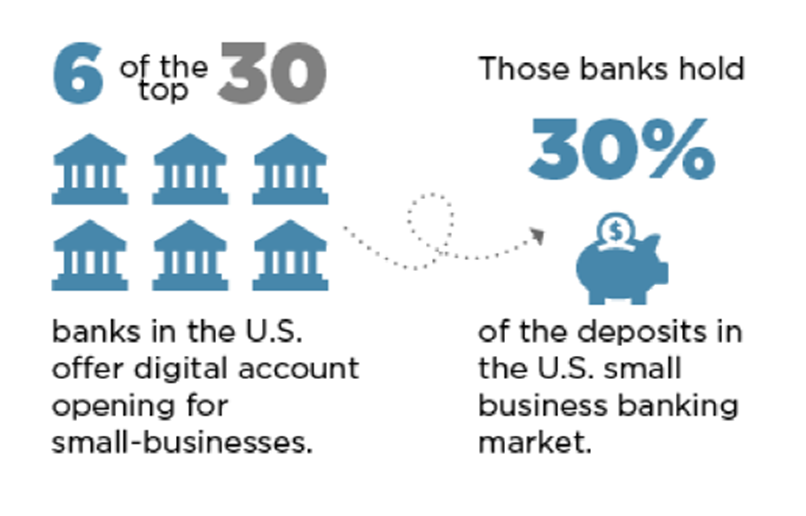 Javelin's
Digital Account Opening in Small Business Banking
report is based on information collected in a random-sample panel of 1,000 small and micro businesses in a March 2017 online survey. Javelin defines microbusinesses as those with annual revenue between $100,000 and $1 million and small businesses as those with revenue between $1 million and $10 million.
Related Javelin Research
###
About Javelin Strategy & Research
Javelin Strategy & Research, a Greenwich Associates LLC company, is a research-based advisory firm that helps its clients to make better-informed business decisions in a digital financial world. Our analysts offer unbiased, actionable insights and unearth opportunities that help financial institutions, government entities, payment companies, merchants, and other technology providers sustainably increase profits.
Media Contact
Joan Weber
+1 (203) 625 4354
Twitter: @JavelinStrategy
Media Contact
Sarah Keller
sarah.keller@javelinstrategy.com