Consumers Increasingly Shoulder Burden of Sophisticated Fraud Schemes, According to 2019 Javelin Strategy & Research Study
Out-of-Pocket Fraud Costs for Victims More than Double in 2 Years; Experts Warn That Sophisticated Fraud Attacks to Continue
SAN FRANCISCO, March 6, 2019 – The 2019 Identity Fraud Study, released today by Javelin Strategy & Research, reveals that complex and sophisticated fraud types remain at elevated levels, despite widespread adoption of anti-fraud measures. The recent shift to EMV (embedded chip) cards is helping to contain existing card fraud, which showed the steepest decline of any fraud type in 2018. While existing card fraud losses dropped from $8.1 billion in 2017 to $6.4 billion and the incidence fell from 5.47% to 4.40%, high-impact fraud types like account takeover and new-account fraud remain alarmingly common, demonstrating that fraudsters continue to find and compromise new targets.
14.4 million consumers fell victim to fraud in 2018. This represents a notable drop from the record-breaking 16.7 million victims in 2017. But victims in 2018 shouldered a much heavier burden than those in recent years: 3.3 million victims bore some of the liability for fraud, nearly three times as many as in 2016, and victims' out-of-pocket fraud costs more than doubled in two years to $1.7 billion in 2018.
"While the decrease in card fraud rates is undoubtedly good news for victims, fraudsters have turned their attention to opening and taking over accounts," said Javelin Strategy & Research Senior Vice President, Research Director and Head of Fraud & Security Al Pascual. "As financial institutions and other organizations modernize account opening processes, it's paramount that they incorporate tools like document scanning, behavioral risk assessments and digital identity. This will streamline digital applications while challenging fraudsters."
The study found that overall fraud incidence and fraud losses declined in 2018, from 6.64% to 5.66% and from $16.8 billion to $14.7 billion, respectively. The occurrence and losses due to account takeover decreased year-over-year from 1.58% to 1.43% and from $5.1 billion to $4.0 billion, although levels remained much higher than prior years.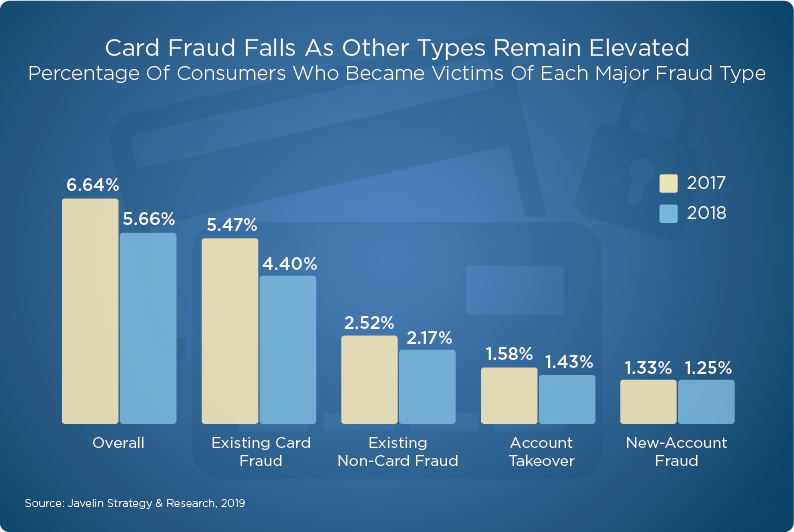 New account fraud losses rose slightly from $3.0 billion to $3.4 billion as fraudsters look beyond classic card fraud. Losses rose for unconventional account targets such as mortgages, student loans, and car loans. Similarly, fraudsters heightened their attacks on peripheral financial accounts like loyalty and rewards programs and retirement accounts. These account types, generally considered 'second tier' by fraudsters, have been less prominent targets since they are difficult to monetize.
Meanwhile, fraudsters are growing even more adept at overcoming authentication challenges. Takeovers of mobile phone accounts nearly doubled, from 380,000 victims in 2017 to nearly 680,000 in 2018. These takeovers allow fraudsters to intercept alerts and one-time passwords sent by text message, one of the most prevalent forms of step-up authentication used today.
"Given the agility and tenacity demonstrated by fraudsters in 2018, financial institutions should assume that every account type will be under greater pressure going forward," said Jim Johnson, EVP, FI Payments and Wealth, FIS. "Adequately defending customers from these new security assaults will require the development and adoption of next-generation fraud mitigation strategies."
The annual Identity Fraud Study is a comprehensive analysis of identity fraud trends, independently produced by Javelin Strategy & Research. The lead sponsor of this study is FIS, a global financial services technology provider. Other sponsors include marquee sponsor Experian, a global information services company, and educational partner GIACT, a payment fraud mitigation company. The study is in its sixteenth consecutive year and is the nation's longest-running study of identity fraud, with 79,000 consumers surveyed since 2003.
About Javelin Strategy & Research
Javelin Strategy & Research, a Greenwich Associates LLC company, is a research-based advisory firm that helps its clients to make better-informed business decisions in a digital financial world. Our analysts offer unbiased, actionable insights and unearth opportunities that help financial institutions, government entities, payment companies, merchants, and other technology providers. For more information, visit https://www.javelinstrategy.com. Follow us on Twitter and LinkedIn.
About FIS
FIS is a global leader in financial services technology, with a focus on retail and institutional banking, payments, asset and wealth management, risk and compliance, and outsourcing solutions. Through the depth and breadth of our solutions portfolio, global capabilities and domain expertise, FIS serves more than 20,000 clients in over 130 countries. Headquartered in Jacksonville, Fla., FIS employs more than 47,000 people worldwide and holds leadership positions in payment processing, financial software and banking solutions. Providing software, services and outsourcing of the technology that empowers the financial world, FIS is a Fortune 500 company and is a member of Standard & Poor's 500® Index. For more information about FIS, visit www.fisglobal.com.
About Experian
Experian is the world's leading global information services company. During life's big moments — from buying a home or a car, to sending a child to college, to growing a business by connecting with new customers — we empower consumers and our clients to manage their data with confidence. We help individuals to take financial control and access financial services, businesses to make smarter decisions and thrive, lenders to lend more responsibly, and organizations to prevent identity fraud and crime.
We have 16,500 people operating across 39 countries and every day we're investing in new technologies, talented people and innovation to help all our clients maximize every opportunity. We are listed on the London Stock Exchange (EXPN) and are a constituent of the FTSE 100 Index.
Learn more at www.experianplc.com or visit our global content hub at our global news blog for the latest news and insights from the Group.
About GIACT  
GIACT® has been helping companies verify valued customers since 2004. From financial to insurance, to retail, to solutions for your industry, GIACT offers customer intelligence for complete payment confidence. As the leader in providing real-time data to help companies mitigate payment risk and fraud, our OFAC screening, ID verification, account verification and authentication, and mobile verification solutions enable you to focus on providing unmatched customer experiences. Since our founding, we've processed billions of transactions for our more than 1,000 customers. For more information, visit www.giact.com or call 1-866-918-2409.  Follow us on LinkedIn and Twitter.
###
Media Contact
Sarah Keller
sarah.keller@javelinstrategy.com